Everest 2022
– The Irish Outlook
Everest has been climbed 10,656 times by more than 6000 climbers since the first ascent by Edmund Hillary and Sherpa Tenzing Norgay in 1953. From an Irish perspective, Everest has been climbed 71 times by 55 Irish climbers (9 women, 46 men) since the first Irish ascent by Dawson Stelfox in 1993, with a total of 135 Irish attempts to climb the mountain over the years. Full details on all of the Irish summits and attempts can be found here.
The 2022 Everest season is now underway and will stretch across April and May. From an Irish perspective there are 4 climbers that we know of thus far on the mountain this season (3 from RoI and 1 from NI) all climbing on the Nepal (South) side because the Tibet side being closed because of ongoing Covid-19 restrictions in China. The first 20 days of April are used for acclimatizing and preparation. A longer than normal meander to Everest Base Camp is typically punctuated with climbs of 6000m peaks (some climb Island peak, others Lobuche) with different teams taking different routes to the base camp, all aimed at preparing the body for the altitude demands of Camp 1 on that first rotation through the icefall in late April.
The Irish climbers we know of to date who are attempting Everest this season are:
– Robert Smith (51) from Tyrone.
– Miko Keane (69) from Galway.
– James McManus (39) from Tipperary.
– Diarmuid Morrissey (56) from Athlone.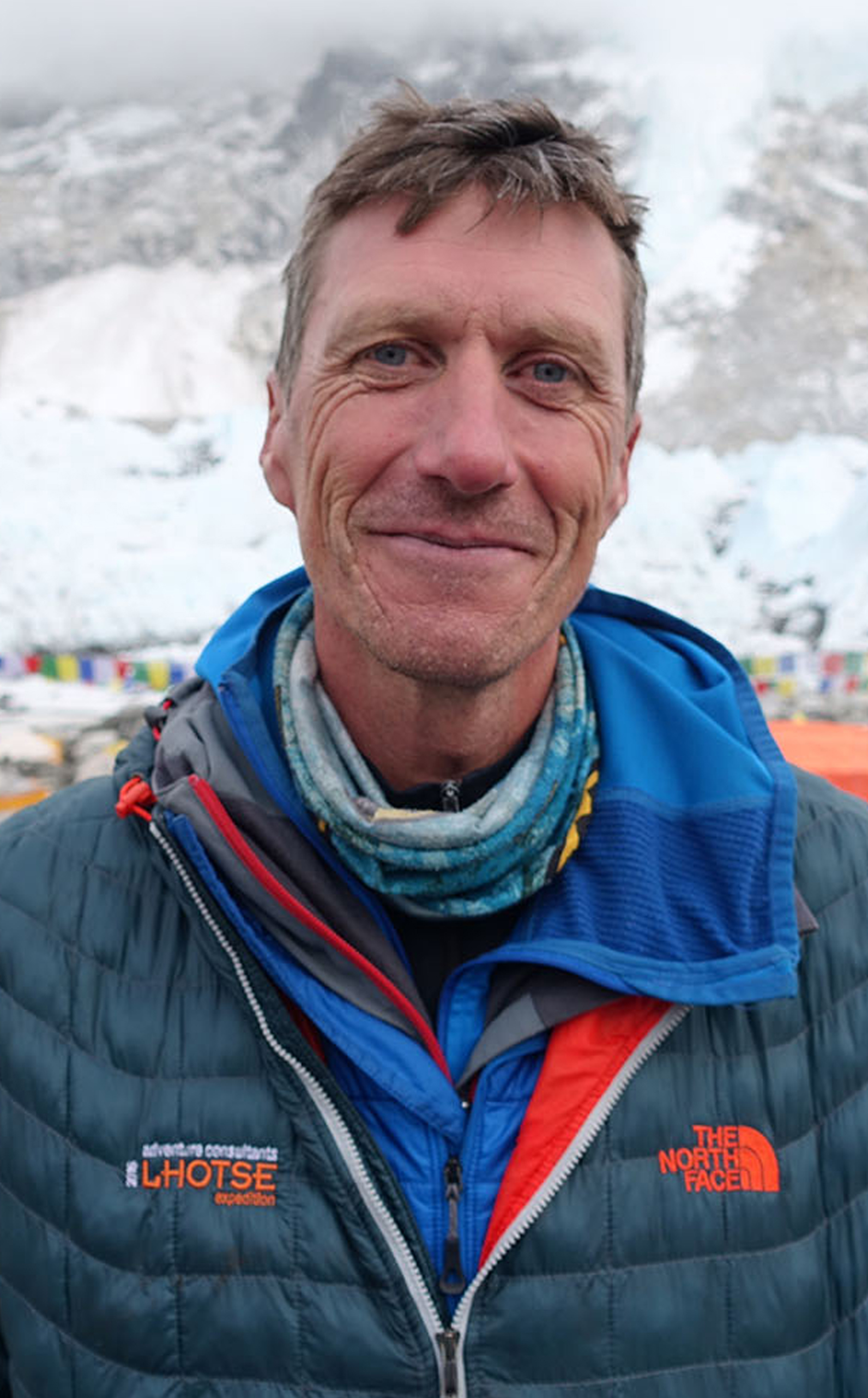 Robert Kelso Smith (51) is a professional mountain guide, originally from County Tyrone who now lives in Fort William in Scotland. Robert has previously climbed Everest an astonishing 6 times, with last summit in May 2021 while guiding for Madison Mountaineering. He has the unique distinction of having climbed K2 and Everest in the same season in 2018 and climbing Everest and Lhotse within the same 24 hour period in 2019. Robert has climbed five of the fourteen 8000m peaks (Everest, K2, Manaslu, Cho Oyu and Lhotse) – the most of any Irish climber and has significant climbing and guiding experience including 8000m peaks, Snow Leopards and extensive Antarctic climbing and polar expeditions to name but a few. Robert has recently completed a trio of climbs in Antarctica, including Vinson Massif (4892m), Mount Tyree (4852m) and Mount Shinn (4661m) within the same week. This is likely a first ascent for an Irish climber on Tyree and Shinn, and the first time anyone has climbed all three of these Antarctic peaks in the same season since the 1966/67 season. Robert is guiding with the US-based Madison Mountaineering expedition team this season.
Michael 'Miko' Keane (69) is a sheep farmer from Corr na Móna in the beautiful Gaeltacht (Irish-speaking) region in County Galway. In 2018 he became only the 4th Irish climber ever to reach the summit of Manaslu (8,156m), having successfully climbed Denali in 2016 and reached the summits of Elbrus, Kilimanjaro and Mont Blanc prior to that. A keen outdoor adventure runner and mountaineering enthusiast in his native Galway, Miko is a regular on the adventure race circuit, including Gaelforce and the Maamturks Challenges, among others. Miko is climbing with the Ascent Himalayas expedition team (Nepali owned and operated) where Mingma Tsiri Sherpa and his experienced team will be taking great care of him, having established strong ties with a number of Irish climbers over the past decade. This is Miko's second attempt on Everest after he decided to end his 2019 expedition prior to the team advancing to Camp 1 on their first rotation. Miko is one of the most humble and down to earth guy you will ever meet and we hope it is second time lucky for him this year. At 69 years of age, a successful summit would also make Miko the oldest Irish person to successfully climb Everest.
James McManus (39) is originally from Roscrea in Tipperary, now living and working in Dublin. James is the first Tipperary native to attempt Everest and is planning to climb without supplementary oxygen. If successful, he would be the first Irish climber to achieve a feat which has only been done 216 times by 181 climbers in the past (just 2% of all summits to date). James runs the Dublin-based adventure travel company Earths Edge, founded in 2007 and specialising in treks to various peaks including Kilimanjaro, Elbrus and Aconcagua. James has a degree in Sports Science and has been involved in the outdoors since an early age. He represented Ireland as a kayaker in 1999 and has climbed a number of peaks up to 7500m, including Kilimanjaro, Elbrus, Aconcagua, Peak Lenin and Muztagh Ata. In a recent podcast, James stated that he is climbing with a single Sherpa guide (the guide will be using bottled oxygen) rather than as part of a commercial expedition team. Curiously, he will not be based at Everest Base Camp throughout the climb, but will instead base himself lower in the valley in Pheriche at 4300m. His adaptation route to the base of the mountain to aid with altitude adaptation, will be via the Cho La Pass and include climbing Lobuche and Island Peak along the way. This is a reasonably familiar route for teams adapting on Everest each season and helps ensure that you arrive at the base camp physically ready for the rigor of scaling the icefall to Camp 1 on the first rotation up the high mountain. This route is familiar to me because our team took the Cho La Pass coupled with a climb of Island Peak during our 2015 Everest expedition and climbed Lobuche during our 2014 Everest expedition adaptation phase.
Diarmuid Morrissey (56) is a Dublin-born Athlone native. The father of four boys currently lives in Portugal. Diarmuid has climbed Kilimanjaro, Elbrus, Aconcagua (for a second time just a couple of months ago), Kosciuszko, Vinson Massif, Island Peak and Mera Peak and is attempting to complete the 7 Summits with Everest hopefully his 6th peak in that adventure. This is Diarmuid's second attempt on Everest having been on the mountain last year with the US-based Mountain Trip expedition team, during what became a rather shambolic 'Covid season' on Everest. As the season wore on, the Mountain Trip team lost half of their Sherpa group to Covid-19 and became unable to support the team fully with a reduced headcount and the added complexity of Cyclone Yaas bearing down on them as the summit window narrowed to a close. The expedition was eventually cancelled on 22nd May 2021, just ahead of their planned summit push. I interviewed Diarmuid in April 2021 ahead of last years expedition – Read here. If successful, he will be the very first Diarmuid to summit Everest, which is not a record per say, but the Irish are allowed to cheer about it.
If you know of other climbers from the Island of Ireland (North or South) who are attempting Everest this season and who are not listed thus far, please let us know. Wishing all climbers the very best of good fortune and safe climbing for the season ahead.
Also on Everest this season is the World Sherpas expedition company of which Dubliner (and 2012 Everest summiteer) Cian O'Brolchain is Director. World Sherpas has a Tasmanian client climbing Everest this season under the care of their IFMGA Sherpa Guide Furtemba Sherpa (from Rolwaling) who has twelve 8000m peaks including five summits of Everest under his belt.
Finally, best of luck also to the plethora of Irish trekkers and Irish trekking companies who are en-route to Everest Base Camp or planning on hiking the various mid-range peaks in the Himalayas this season. Wishing you all a safe and enjoyable adventure.
(For anyone thinking "it is too late for me" or "I am too old"…bear in mind that the Irish (North and South) attempting Everest this season have an average age of 54! So get out on the hills and make things happen)
Everest 2022
– Observations & Insights
The headline Irish attraction this year will be the attempt by James McManus to become the first Irish climber to summit Everest without supplementary oxygen. Everest has been climbed without supplementary oxygen just 216 times by 181 climbers in the past. Joining that group including some of the most accomplished climbers on the planet, would be an immense achievement. I particularly love the planning and logistics associated with Everest, so I am intrigued by the decision of James to use Pheriche (14,340ft) as his base throughout the expedition, rather than Everest Base Camp (17,598ft). That approach will add 5 to 7 hours (5 if you are adapted, 7 if you are not) of additional trekking and 3,300ft of additional ascent to each rotation at a crucial stage of adaptation, which is probably why almost nobody really does it. James has stated in various podcasts in recent weeks that he will not be climbing as part of a commercial expedition team, but will be climbing one-on-one with a Sherpa guide who will also be carrying some 'Just in Case' oxygen for James for safety purposes or should he need to abandon his 'No Os' approach for safety reasons or otherwise, and potentially climb on with bottled oxygen instead. If James and his Sherpa guide are not under the umbrella of any larger commercial entity on the mountain and therefore not able to avail of their infrastructure at Base Camp and at the four camps on the high mountain, that means they will have to carry significant loads (including camp equipment, food and oxygen for the Sherpa and James) from Pheriche, between and during each rotation up the mountain, to establish and stock their Camps along the way. That would constitute an extreme challenge for even the most experienced high altitude mountaineer. It would seem more likely that they will be under the umbrella of an expedition company such as Seven Summit Treks and using their camps, cooks and infrastructure. We will discover more as the trip develops. His stated reason for using Pheriche as his base is to optimise sleep and food intake to maintain weight and rest. Both are critical, but my experience from 2014 and 2015 on Everest was that the food at Base Camp outstrips anything you get in the tea houses in the valleys below (it is frankly excellent and has improved significantly even since my time), while sleep really should't be an issue at Everest base camp if your adaptation program is sufficiently robust (via Cho La Pass with Lobuche and/or Island Peak is definitely robust). After a while at EBC, we felt like we were back down the valley and the oxygen saturation levels reflected that comfort level. So I do wonder about being all the way down the valley between each rotation and adding those extra cold trekking hours and additional altitude to what will already be exhausting rotations up to the high camps. Clients do tend to wander back down into the valley for a day or two ahead of the summit push to gain some additional benefit (and a treat or two at the bakery in Namche), but this would be done within additional days designated for extended rest and recuperation during the wait for the summit window to open. How that would work if you had to do it (and trek it, not heli) on every rotation, while presumably carrying heavier loads than your average commercial client if not using an expedition company, is going to be fascinating to follow. I know of Irish climbers who climbed in recent years with a dedicated guide, but they were based at EBC and from a logistics perspective were effectively a 'team within a team', nestled inside a larger commercial expedition, because it would have been logistically and physically very difficult to achieve otherwise, not to mention the additional complexity of managing movements of 1000+ people trying to squeeze thru an often narrow summit window in May, which is the overarching reason for the infamous queues seen in recent years. Even the most experienced western guides conduct their one-on-one guiding expeditions within a commercial teams infrastructure (i.e. they don't build their own camps), which is part of the secret sauce that allows them to be so nimble and achieve their goal. So it will be fascinating to see how this rather unorthodox itinerary pans out for James and his Sherpa guide and exactly how the logistics of that two-man mission based down the valley, will work with the added complexity and physical challenge of no bottled oxygen. Each climber on Everest is entitled to take a new approach and do something they believe will give them an edge to succeed. The high mountains are a place where risks are taken and unthinkable challenges are met, and a great deal is now known about the effects of altitude on the body along the way, so we will watch with great interest to see how James gets on.
---
As mentioned previously, Everest has been climbed without supplementary oxygen just 216 times (2% of all Everest summits to date) by 181 different climbers. In her article in ExplorersWeb last year, Angela Benavides quoted UK climber Jon Griffith on his experience without bottled oxygen and the difference it makes, which gives a great insight for the uninitiated:
"I've used O2 on Everest and I could not believe the difference it made. I went from feeling like I was at 7,500m/24,600ft (cold, bit weak, lightheaded) to feeling like I was running around in the Alps in summer. It's not just the additional fuel it gives your muscles. It's the cognitive ability and the warmth it also gives. It's an amazing feedback circle. I think people massively underestimate the difference O2 makes, I certainly did. It's also not just about pushing yourself physically further. It's also about knowing when to turn around — on O2, it doesn't matter, you just turn around. But without O2, you are on a ticking timer: You need to know when to turn around in order to get back down low enough before your body and brain shut down on you. Without the cognitive help that O2 gives, it is very very hard to know when that turnaround time is. The commitment to climbing without O2 is next level. I took my mask off on the summit of Everest to set up a camera and pretty soon I started to feel like sh*t. I remembered thinking to myself, if I started to run down the fixed ropes now, would I make it down low enough?…Remove [the O2] and it's not the same thing at all."
Angela's article argues that what really makes all the difference is not just the use of oxygen, but its availability.
"Years ago, ExplorersWeb founder Tom Sjögren spoke of Psychological O2 – how if O2 is available in a higher camp or a cache, a climber will take more risks and go higher than if that potentially life-saving resource were not available".
This feels intuitively accurate – If you feel you have a bottled oxygen fall-back option at your disposal, you will take risks at altitude that you will likely not otherwise take. So in that regard there are effectively two types of 'No Os' attempts… those which have an availability option and those which do not. Getting to the top without bottled oxygen is an immense achievement either way, but the method and means is also important to the challenge itself. It is therefore interesting to consider the psychological O2 impact in this context and it will be fascinating to hear from James after the expedition, if/how that played a role in his decision making along the way.
Another fascinating one to watch this season relates to UK climber Kenton Cool who is bidding for his 16th summit of Everest which will give him the most Everest summits of any non Sherpa mountaineer (overtaking American Dave Hahn). His climb will be interesting, but it is his client who is fascinating. Cool offers a one-on-one guided package on Everest and was quoted in a magazine interview in 2019 as saying (🔗link) "You can go to Everest from as little as about $40,000 if you join a team; the only thing I would say is I am significantly more than that – well into six figures and beyond". His climbing capability is stellar, hence the mega price tag, and his guided climb this season is conducted under the logistics umbrella of Madison Mountaineering (uses their excellent camps and infrastructure along the way). His client this year is a global fitness trainer and social media influencer who is originally from UK but now living in USA. She signed up with Kenton in 2019 to climb Everest in April 2020, having never climbed or hiked before. Her first time on a mountain was a 3-day introduction trek up to 12,000ft in the Alps in October 2019, to get familiar with the basics ahead of Everest 2020, just 5 months later. Her next time on a mountain was in January 2020 when she was a couple of days ahead of our IMG group on the volcanoes in Ecuador, while being guided by Tim Mosedale and reaching a height of 19,350ft (Cotopaxi) on that trip. Everest 2020 was then cancelled due to Covid-19. After a long break, her next mountain experience was a 2-day beginners Ice-climbing course in Montana two months ago. Last month she was back in the Alps for a few days of final prep, up to an altitude of around 12,000ft this time. She will now attempt to climb Everest this Spring on a one-on-one guided climb with Kenton Cool. In a video interview last season (🔗 here between 17 & 19 minutes), Cool highlighted how he works for 2-3 years in advance of an Everest climb with his clients to ensure they have sufficient high altitude experience to feel that they have 'earned' their place on the mountain. This year he is guiding a client who appears to be devastatingly inexperienced for an 8000m peak. Indeed had Everest 2020 gone ahead, his client would have been on Everest just 6 months after setting foot on her first ever hill, and would have arrived at Everest with just one summit (Cotopaxi at 19,350ft) to her name! Anyone who assumes that a one-on-one guided mission doesn't have the potential to draw in others into an emergency should it occur up high, is living in cloud cuckoo land.
One of the biggest hazards on Everest is inexperience, which invariably results in high altitude drama and drags others into its orbit. The commercial expeditions do a reasonable job of filtering out those with little or no experience via their sign-up criteria (albeit some do a better job than others, and those who do their homework know which ones are which). We should hold the one-on-one guides to the same standard we demand from the commercial expeditions in this regard. I do not count myself among the purists who believe that Everest should be regulated (though I think numbers should be capped somewhat to avoid it becoming an annual circus of crowds), nor do I believe that you don't deserve to be on Everest if you haven't climbed an 8000m peak or some such. There are many ways to become 'expedition ready' for an Everest climb – they don't all involve extreme altitude experience (though having it reduces your risk), but they do, or at least should, involve being capable and reasonably self sufficient on the mountain on arrival. It is objectively true that a one-on-one guided trip offers more room to protect a client from harm on the mountain, but the reputation damage Everest is suffering right now is not deaths related, it is inexperience related. I hope she has a safe and successful climb, but I worry about this increasing trend of gross inexperience being Trojan-horsed onto the mountain via one-on-one guided missions. I also worry about an absence of push-back from various voices of Everest whenever this sort of thing happens. After all, this inexperience is funding the record making! If a grossly inexperienced client is injured or dies while climbing with a low cost expedition team, or an experienced client is injured or dies while climbing with an inexperienced expedition team, editorials are written and outrage is expressed (and rightly so). But if an experienced one-on-one guide (and especially a western one) is the reason why inexperience is on the mountain in the first place, they seem to get a pass, as if the day can't or won't ever come when things go wrong and it impacts others! Nobody should be beyond analysis in this regard, especially when the stakes are as high as they are on Everest. If the annual Everest roadshow, which we all know and love, needs anything right now, it is more sunlight shone on what is going on in and around expeditions including one-on-one guided trips, in order to improve the integrity and reputation of the peak and those climbing it. Some are doing much better than others on this, while some clearly believe that the end always justifies the means.
Overall, with projected lower numbers this season due to global conflicts and the cost of living crisis, it looks like an ideal year from a crowds perspective to climb the mountain. Mother nature will have her say, as usual, and the success of clients and guides alike and the dates they can possibly enjoy that success will boil down to the size and shape of the summit weather window in May when the jetstream weather system moves away from the top of the mountain for an unpredictable length of time to enable the lucky few to squeeze through and reach the top. Sometimes there are a couple of weather windows in May, other times the window has been very narrow indeed. No climber can predict when their summit can happen except to know that a window or two will open between middle and end of May. Fingers crossed for all involved that they get their day on the top and return safe and sound with stories to tell and everything intact.
The author: Paul Devaney is a native of Longford, is co-founder of the Irish Seven Summits challenge, and Director of Seven Summits Solutions Limited which provides Aerospace & Digital Design services. Paul is an amateur mountaineer and has completed 6 of the 7 Summits and attempted Everest in 2014 and 2015. In both seasons his expedition was halted due to major incidents (Avalanche in 2014, Earthquake in 2015). Paul has climbed and trained in the Alps and completed climbs from Alaska to Antarctica and from Jordan to Ecuador. He lives in London with his wife Rima and has been documenting and researching the Irish on Everest for the past nine seasons.