Everest 2021
– The Irish Update
There are 5 Irish climbers attempting Everest this season.
– Noel Hanna (54) from Down, based in South Africa.
– Robert Smith (50) from Tyrone, based in Scotland.
– Damien Browne (40) from Galway, based in Brisbane.
– Ronan Murphy (40) from Dublin, based in London.
– Diarmuid Morrissey (55) from Athlone, based in Portugal.
None of the Irish climbers on Everest this season live in Ireland and none traveled to Nepal from Ireland. 
Everest had been climbed over 10,200 times since 1953, and has been climbed 68 times by 54 different Irish climbers since the first successful Irish ascent in 1993. In total, there have been 130 Irish attempts to climb Everest by 91 different Irish climbers. See a list of Irish attempts here.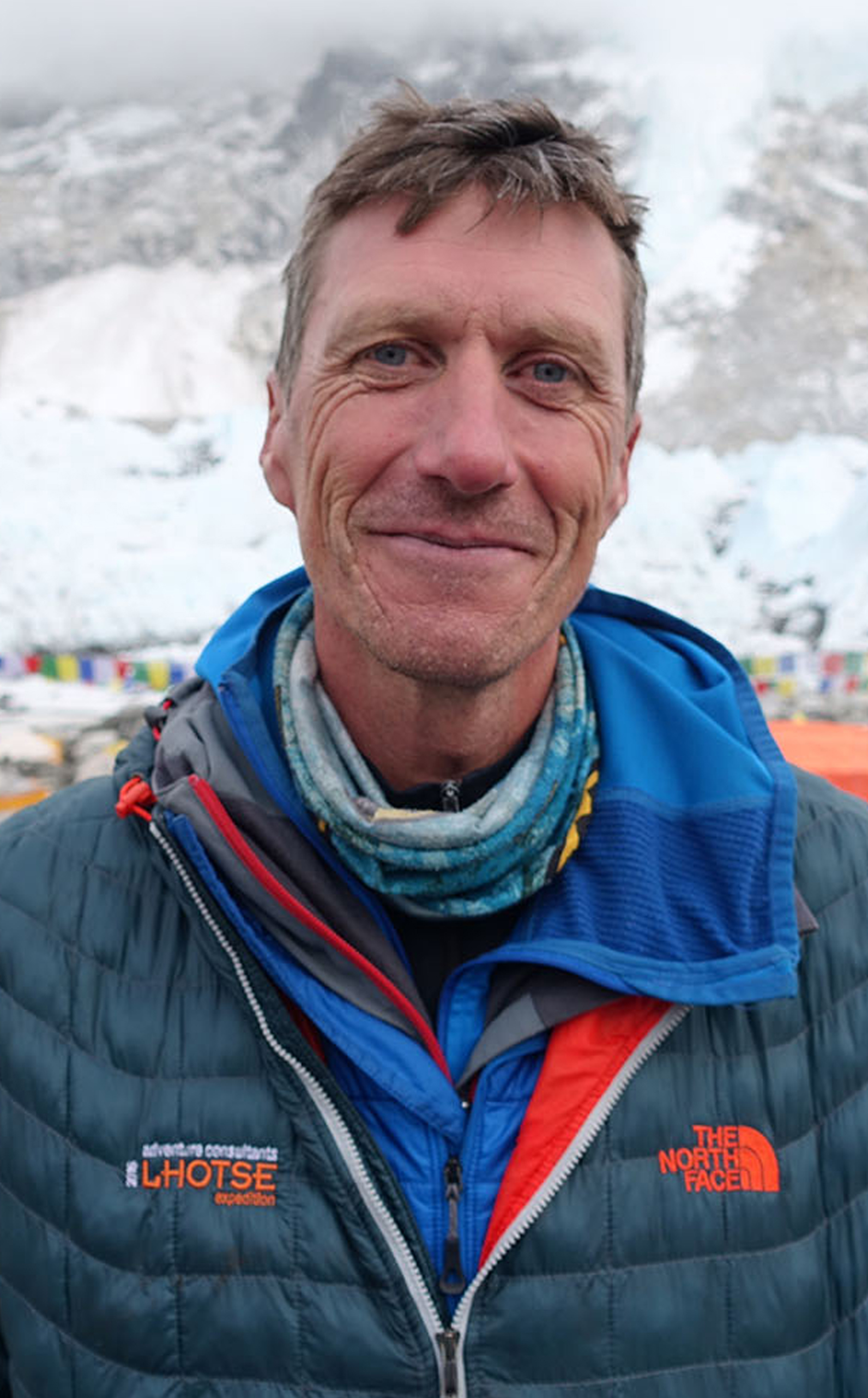 Noel Hanna is likely now on his first rotation based on progress to date. Noel is climbing with South African and motivational speaker Marlette de Jager within the Seven Summits Treks expedition and will be ascending thru Camps 1 and 2 (maybe even to Camp 3 depending on levels of adaptation) this week to help adapt to the higher altitudes before returning to base camp.
Robert Smith is guiding for Madison Mountaineering. The Madison Everest team are reportedly on their first rotation up the high mountain, taking in Camp 1 (two nights) and Camp 2. The team was at Camp 2 yesterday (26th April) according to update on the expedition from Garrett Madison of Madison Mountaineering, and will be returning to Base Camp in due course to rest and prepare the team for the next rotation.
Ronan Murphy is climbing with Madison Mountaineering who are reportedly on their first rotation up the high mountain, including Camp 1 (two nights) and on to Camp 2. The team reported their location at Camp 2 yesterday (26th April) according to update on the expedition from Garrett Madison of Madison Mountaineering, and will be returning to Base Camp shortly to rest and prepare for his next rotation.
Damien Browne was at Base Camp yesterday doing some training for the inevitable icefall crossing to Camp 1. He reported on his Instagram account on Sunday that he was struggling with the altitude and had SpO2 (oxygen saturation) of 50 (hard to imagine it was that low!) when hiking from Everest base camp to Pumori base camp (5740m). Damien was a last-minute addition to the CTSS (Climb The Seven Summits) expedition team, and arrived a week or so behind his teammates, missing out on the Lobuche East (6119m) adaptation climb which is an integral part of the teams acclimatising schedule. He clearly needs more time to adapt to the physiological demands of life above 5000m and will hopefully be feeling better in a few more days and ready for the demands of that first rotation.
Diarmuid Morrissey is with the Mountain Trip expedition team who reported yesterday that they were en route to Camp 1 on their first rotation up the mountain to sleep and adapt at Camp 1. The team reported that the icefall route this year was longer and in some ways more difficult than in years past. Their plan was to spend two nights at Camp One and then move up to Camp Two for three nights before descending back to Base camp for rest and preparation for their next rotation. See below an interview with Diarmuid.
(PS – If you know of other Irish connections on Everest this year please let me know). 
Everest 2021
– Season So Far
According to Nepal's Ministry of Tourism summary for 26th April 2021, climbing permits have been issued to 82 different teams, covering 723 foreign climbers for climbing peaks in the country. Everest accounts for 42 teams, with 394 foreign climbers in-country to climb Everest this season.
| Nepal Peaks | 2019 Teams | 2019 Members | 2021 Teams | 2021 Members |
| --- | --- | --- | --- | --- |
| Ama Dablam (6814m) | 5 | 49 | 2 | 27 |
| Annapurna I (8091m) | 3 | 23 | 4 | 44 |
| Barun Tse (7129m) | 0 | 0 | 2 | 15 |
| Chamlang (7321m) | 1 | 10 | 0 | 0 |
| Chhopabamare (6109m) | 1 | 2 | 0 | 0 |
| Dhaulagiri I (8167m) | 2 | 5 | 5 | 33 |
| Everest (8848m) | 33 | 362 | 44 | 408 |
| Gyalzen Peak (6151m) | 2 | 6 | 0 | 0 |
| Himjung (7092m) | 1 | 4 | 0 | 0 |
| Himlung Himal (7126m) | 2 | 12 | 1 | 7 |
| Kanchanjunga Main (8586m) | 5 | 33 | 0 | 0 |
| Kangbachen (7903m) | 1 | 2 | 0 | 0 |
| Kumbhakarna (7710m) | 1 | 3 | 0 | 0 |
| Langtang Lirung (7234m) | 1 | 2 | 0 | 0 |
| Lhotse (8516m) | 8 | 75 | 13 | 123 |
| Makalu (8463m) | 4 | 53 | 2 | 20 |
| Manaslu (8163m) | 0 | 0 | 1 | 1 |
| Mustang Himal I (6195m) | 0 | 0 | 1 | 2 |
| Nuptse (7855m) | 2 | 27 | 4 | 38 |
| Pasang Lhamu (7351m) | 1 | 4 | 0 | 0 |
| Pumori (7161m) | 1 | 11 | 2 | 9 |
| Ratna Chuli (7128m) | 1 | 5 | 0 | 0 |
| Saribung (6346m) | 1 | 12 | 1 | 2 |
| Tengkangpoche (6500m) | 0 | 0 | 1 | 2 |
| Thapa Peak (6012m) | 2 | 5 | 0 | 0 |
| Tilichho (7134m) | 0 | 0 | 1 | 8 |
| Tukuche (6962m) | 0 | 0 | 1 | 1 |
2021 vs 2019 Comparison:
If we compare permits issued to foreign members and teams for 2021 Spring season versus the 2019 Spring season at this point (Nepal was closed in 2020 due to the Covid-19 pandemic), the comparative headlines are as follows (April 26th 2020 vs April 16th 2019):
▲ More permit revenues this year (+ $138k)
▲ More teams on Nepal peaks this year (78 vs 82)
▲ More people on Nepal peaks this year (723 vs 705)
▲ More teams on Everest South side this year (44 vs 33)
▲ More people on Everest South side this year (394 vs 362)
▲ More people on Lhotse this year (123 vs 75)
▲ More people on Nuptse this year (38 vs 27)
▲ More people on Annapurna I this year (44 vs 23)
▲ More people on Dhaulagiri this year (33 vs 5)
▼ Less people on Kanchanjunga this year (0 vs 33)
▼ Less people on Ama Dablam this year (27 vs 49)
▼ Less people on Makalu this year (20 vs 53)
So it is a record breaking year in Nepal, and on Everest. The numbers also show a record breaking year on Annapurna I and Lhotse too. Permit revenue announced thus far for Spring season 2021 are $4,495,080.00 compared to similar permit revenues at this time in 2019 of $4,357,250.00. So the 2021 season has seen permit revenues rise by + $137,830.00 compared to 2019. ($ = USD)
These numbers are surprising considering the pandemic backdrop and the third wave threat facing Nepal ahead of this season getting underway (little testing, non-existent track & trace, little vaccinations and an unfolding disaster next door in India). It is therefore not surprising to hear of Covid-19 positive cases at Everest Base Camp – Four confirmed cases thus according to Explorers Web this week, and that number may be higher when facts are examined once the season is over. 
Interview
– Diarmuid Morrissey
This interview with Diarmuid Morrissey was conducted on 9th April 2021, at the start of his Everest expedition.
---
Tell us a little about yourself?
I'm 55, born in Dublin but raised and educated in Athlone. I started out as a Plastics Engineer and ended up with my own business, which we sold in 2017. I'm currently not 'working' but I will need to decide shortly what I'm going to do going forward to keep myself bust and out of temptation! I currently live in Portugal, I have 4 boys over a wide age range.
---
How did you get into high-altitude mountaineering and tell us about the climbs that have prepared you for this adventure?
I first trekked into base camp in 2016 and loved every minute of the Himalayan adventure. I loved everything about it, the spectacular landscape, the high valleys, the challenge of altitude and the awe that hits you when you come into such a wonderful place. I met some fabulous people on that trek, and as you adventure up the valley, the talk inevitably turns to what next, there is talk of the seven summits, the Inca trails, etc etc. I then signed up to climb Kilimanjaro about three months after that, and got my first real exposure to high altitude mountaineering. Kilimanjaro is fantastic, I've climbed it 4 times in total and I have to say the last summit was tainted with a little sadness, thinking it will be a while before I return. This was the starting point of the seven. From there Elbrus, Aconcagua, Kosciuszko, Vinson, I've also managed Island Peak and Mera Peak. Strangely Mont Blanc has been a bugbear, and I had a problem on the Matterhorn in 2019.
---
Why Everest?
Everest is the true mother of all mountains, not the toughest, not the most technical, not the most dangerous but above all it is the jewel that most would love to have achieved. When the idea of the seven took hold, this was always going to be the ultimate destination. Due to the pandemic, I had to skip Denali in 2020.
---
You are climbing via South (Nepal) side – Was it your intention to climb via this side or did the closure of the Chinese side make that decision for you?
I had originally opted to go from the north side, primarily to avoid the ice falls. With the pandemic the access to Tibet was closed and the choice was what or go south side.
---
How have you trained over the past year, especially with all the Covid restrictions?
Training has been tricky with constant rolling lockdowns. The schedule is heavily cardiovascular, so running (which I hate) or cycling 3 to 5 times a week, some core and strength sessions which I've not been able to do since October due to injury, but most difficult has been getting into any mountains. In the end I went to Tanzania to climb Kilimanjaro back-to-back with additional weights. My last summit of Kilimanjaro was with 10kg of dead weights in my backpack along with 5kg of extra water ballast.
---
You will be climbing with Mountain Trip (great company, I climbed Denali with them in 2010). Why did you choose them as your expedition company and what is the strategy for guide (western or Sherpa) and guide ratio (1:1 or 1:2) on the upper mountain?
Mountain Trip were recommended to me by a German climber I met in Antarctica, they are very well set up and one of the major things that appealed to me was the fact that they wanted to see my climbing history before they would take any bookings. We're 1:2 climbers to guides and 1:1 climbing Sherpa on the upper mountain. The whole set up is very well run, they have a lot of experience and it shows.
---
You are from Athlone and this year is the 100th anniversary of the first reconnaissance expedition to Everest led by Charles Howard-Bury (also a Westmeath man). Do you feel that historic significance and did it play into you choosing 2021 or is that a happy coincidence?
Happy coincidence! I was unaware of the link.
---
What are your biggest fears or concerns in advance of the expedition and how are you trying to manage those fears while also focusing on the task at hand?
It is honestly a major struggle to digest the magnitude of the task ahead, the mental side is a struggle, self doubt and the reputation the mountain has plays heavily. The physical dangers are also looming. As I type these words in Kathmandu, the helicopter leaves in the morning and I'm sure that the 10 day trek into base camp will settle a lot of the nerves. The first sight of the mountain will bring a different emotion from the last time I saw it in 2019. It's now the destination rather than the dream.
---
The first 20 days of the Everest expedition is all about slow and steady acclimatising. Will your expedition team be acclimatising on Lobuche or Island Peak before you reach Everest Base Camp or will you do most of your acclimatising on Everest itself?
The management of acclimatisation is critical, watching for signs of AMS (acute mountain sickness) is crucial. Managing the climb up and having a plan in advance of problems are vital. We will climb slowly through the Khumbu valley over 10 days with a few multi night stops to catch up. Managing symptoms and getting sleep are important. The balance of the acclimatisation will be done on the rotations to camp 3 before the summit push in May.
---
The icefall between Base Camp and Camp 1 is infamous because of the dramatic ladder crossings which capture the public imagination. How many times will you be crossing the icefall and how can you prepare for that pretty unique experience?
I'm not sure how many times we cross, I think its 6 in total… 3 in 3 out. The ice falls have a fearsome reputation, we will be doing some training lower down in advance and I did some ladder training as part of the Island Peak climb. I think it'll be a huge challenge, I believe the vertigo is intense but I'm not that bothered by heights.
---
Everest is a monumental physical and mental challenge. In the upper mountain it is often your mind that decides enough is enough, hence overcoming that mental fatigue over a period of 60 days is, many would say, the essence of the Everest challenge. What do you do to prepare mentally for the unique challenges you will face on the upper mountain, particularly above Camp 3?
I have some experience of the wear and tear of long duration expeditions. No doubt the high mountain will bring unique and new challenges. I'm not sure there is anything that prepares for that challenge.
---
Last year the mountain was effectively closed. In 2019 there were 878 summits of Everest making it a record-breaking year. This year the number will likely be half of that due to reduced numbers. Did that play into your decision making for 2021 and is it difficult to prepare physically or mentally for the possibility of queues on the icefall, Lhotse Face or Hillary step(ish)?
As we stand 160 climbing permits have been issued, its is expected that the total will be about 250. Traffic on the high mountain is going to be dictated in part by weather much like it did in 2019. We really hope that we don't get a repeat of the jams on the final parts of the climb. There are enough issues to manage without having to factor in for traffic?
---
Life above 8000m and particularly on the long summit day is often described by those who have experienced it as the hardest experience of their life – the supplementary oxygen, reduced pace, physical and mental fatigue, heightened awareness, adrenaline and excitement. How do you prepare for entering the so-called 'Death Zone' and dealing with the sights and sounds that exist there?
Anything above 5000m should be treated as dangerous. Taking any high peak nonchalantly is what gets people into trouble. I reckon I'll be busy managing myself physically and mentally to notice too much else. Oxygen is another 'tool' like summit jackets and expedition suits, rarely needed but familiarity with it removes the "issue" of using it properly.
---
Tell us about your medical kit for Everest – What is in there and why?
Medical kit is pretty standard. Blister kit. Ibuprofen for headaches and sleep. Diamox I carry just in case but I haven't used it for a good while. Antibiotics in case of chest infections which are common enough. Nifedipien as a precaution for pulmonary oedema. Dexamethasone as a precaution for AMS. Aspirin. The usual anti emetics and diarrhoea pills. Non prescription herbal sleeping tablets, just to help getting off to sleep.
---
Will you be using supplementary oxygen? If yes, what oxygen strategy will you be employing to help give you the best chance at success?
Absolutely, need to maximise the chances of success. I don't think I cagoule manage without it to be honest.
---
Many commentators point to prior 8000m experience as an unwritten prerequisite to climbing Everest. However the stats show 65% of Irish summits were by climbers who had not climbed an 8000m peak prior to Everest and 60% had never been above 7000m prior to Everest. What are your thoughts on 8000m experience and has that issue influenced your training at all?
That's a loaded question. In my opinion the 8000m prior requirement was a political initiative to solve a problem that had commercial origins. In my opinion the problems with inexperienced climbers having difficulties had a lot to do with companies taking risks with inexperienced climbers out of commercial expediency. I think people do need to be experienced, its too dangerous for others to let inexperienced climbers onto to these types of mountains.
---
Tech has become an increasingly large part of Everest expedition life including beacons, trackers and satellite phones. What tech will you be taking with you (tracker/sat phone or otherwise) and will people at home be able to track your progress online?
I carry a GPS tracker, there is mobile phone coverage now at base camp. It's nice to keep in touch with all back home. The 6 week isolation is a bit much and in this. Connected world, it isn't too difficult to keep in touch.
---
This is a complex year in almost every regard with Covid-19 still casting a large shadow. Was it difficult to manage to travel internationally given the various restrictions that exist right now and what was the decision making to push ahead with this years expedition like in that context?
This had been one of the most difficult problems. Not only can I travel, but should I travel is a relevant question. I had the virus in 2019 so I am less of a risk. I have been preparing for this for a long long time. I had intended to climb Denali last year and that entire expedition was lost to the pandemic. It's a tricky question. There are plenty of ill informed idiots who are quick to voice opinions on the activities of others without understanding the background.
---
What sort of precautions are Mountain Trip taking to help protect you guys and the locals in the Khumbu from possible Covid infection? Is there quarantine on arrival, PCR testing, on the route?
Naturally we will follow the Nepalese requirements for entry into the Khumbu. Right now restrictions are being lifted. we hope to be well in the valley before the large volume of trekking traffic hits the trails. We will be keeping in our bubbles, taking entire floors at the tea houses, eating in bubbles. At base camp, we will be individually tented and up to camp 3 we will have single tents.
---
Everest is a very expensive undertaking. Are you willing to say how much it cost and is your expedition self-funded and are you fundraising or crowdfunding? If so, how can people get involved?
I'd prefer not to be exact but this is a once in a lifetime, some would say a life defining event. It has cost an awful lot of money, I hope that I get the maximum value with a successful summit.
The author: Paul Devaney from Longford is co-founder of Irish Seven Summits and Director of Seven Summits Solutions which provides Aerospace & Digital Design services. Paul is an amateur mountaineer and has completed 6 of the 7 Summits and attempted Everest in 2014 and 2015. In both seasons his expedition was halted due to major incidents (Avalanche in 2014, Earthquake in 2015). Paul has climbed and trained in the Alps and completed expeditions from Alaska to Antarctica. He currently lives in London, England.