Everest 2021
– A century of history
2021 marks the centenary of the first (British) reconnaissance expedition to Everest led by Irishman Charles Howard-Bury. It was the first expedition to examine the possibility and survey the feasibility of climbing Everest. While Howard-Bury set to work in the Himalayas, his home country was gripped by war and in the process of tearing itself free from empire as an independent and partitioned state. Not far from Howard-Bury's home in the Irish midlands, my grandfather was engaged in ambushes against the British to secure Irish independence. Charles Howard-Bury was very much a man of the empire; Eton and Sandhurst educated, a Lieutenant-Colonel in the British army and later a Tory MP. His life and politics sat adrift from many in the townlands and villages surrounding his Belvedere House estate near Mullingar in County Westmeath, where most were unaware of his place in the history of Everest until later years. Like many Anglo-Irish figures of our past, his contribution to the world of mountaineering and exploration did not warrant recognition from the Irish Free State and would remain largely unknown until years later when our collective relationship with a shared & complex past started to emerge from the fog.
A century and over ten thousand summits later, Everest is still creating headlines as record-breaking numbers from around the world attempted to avoid Covid and dodge the notorious Jetstream weather system to claim that highest of mountaineering prizes in May. Everest has broken crowd records year after year for most of the 21st century, while a combination of record numbers and a narrow weather window in 2019 resulting in dramatic queues on the upper slopes. This Spring saw 408 permits issued to foreign climbers, setting a new record for the Nepal side. Each permit nets the Nepalese government $11,000.00 in fees. The closure of the Tibet side of the mountain to foreign climbers by Chinese authorities, reduced crowds further, but this was still by any measure a bumper year on Everest. The season was defined by Covid cases, silence, summits and cyclones. Some people played a straight bat and followed the rules as best they could to achieve their goals. Others behaved less honourably as Nepal struggled with a Covid crisis throughout May in particular. It was a season during which every new story seemed to invoke the same response… WTF?
Everest 2021
– The Irish Summary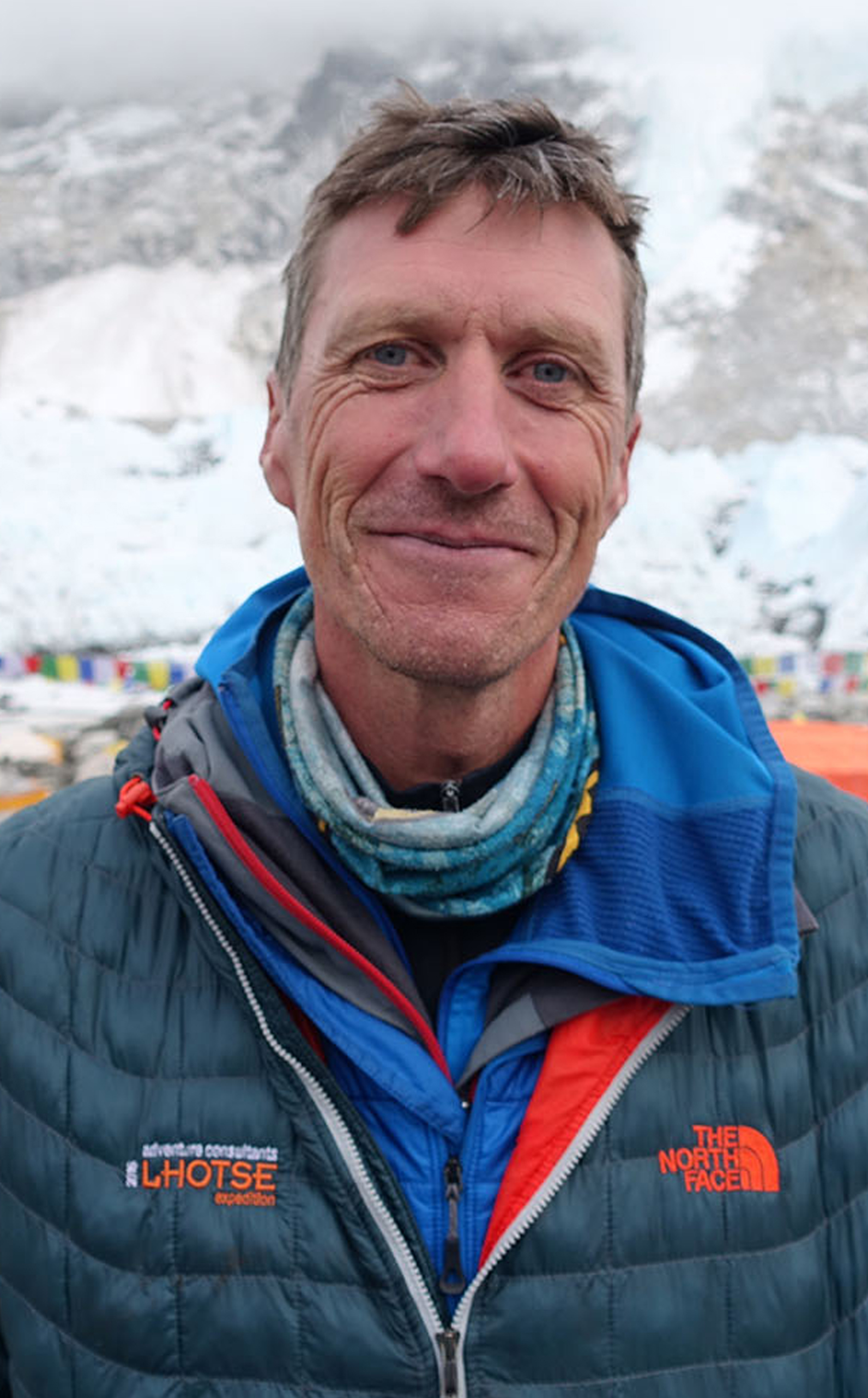 Diarmuid Morrissey (55)
No Summit
Damian Browne (40)
No Summit
Five Irish climbers attempted Everest this year. None of the five live in Ireland and none traveled to Nepal from Ireland. 
Noel Hanna (From Down, living in South Africa) was a client in the Seven Summits Treks (SST) expedition team on Everest this season. He was climbing alongside and providing guidance to a South African friend Marlette de Jager within the SST expedition team. Both Noel and Marlette reached the summit on 12th May during the first wave of summits. This was Noel's 10th summit of Everest. Noel traveled to Nepal from South Africa at a time when travel from South Africa was permitted.
Robert Smith (From Tyrone, living in Scotland) was working as a guide for US-based 'Madison Mountaineering' expedition on Everest this season. He reached the summit on the 23rd May with a group of Madison clients to complete his 6th summit of Everest. Rob traveled to Nepal from UK at a time when non-essential outbound travel was not permitted from UK. However as Rob was traveling for work purposes, he was able to do so under the work exemption to the outbound travel ban.
Ronan Murphy (From Dublin, living in London) was a client within the US-based 'Madison Mountaineering' expedition team on Everest this season. He reached the summit on 23rd May for his first summit of Everest. Ronan was using his climb to help raise funds for The Himalayan Trust UK and raised £15,339.00. Ronan traveled to Nepal from England at a time when outbound international travel was banned. When the exemptions around the travel ban are examined (see further below) it is hard to see how he would qualify for exemption from that ban, but somehow managed to circumnavigate it to travel at a time when England was in firm lockdown with a 'stay local' notice in operation and an international travel ban in place. 
Diarmuid Morrissey (Born in Dublin & raised in Athlone, living in Portugal) was a client in the US-based 'Mountain Trip' (MT) expedition team on Everest this season. Diarmuid traveled to Nepal from Portugal at a time when outbound travel was permitted from Portugal. The MT expedition was cancelled on 22nd May ahead of their summit push. The cancellation was attributed to an outbreak of Covid-19 within their Sherpa group. You can read my interview with Diarmuid from early April here. 
Damian Browne (From Galway, based in Australia) was a client in the US-based 'Climbing The Seven Summits' (CTSS) expedition team on Everest this season. He arrived in Nepal a week or so later than the rest of the CTSS team due to the birth of his first child in Brisbane at the start of April. Damian tested positive for Covid-19 while at Base Camp on 25th April, and was evacuated for 8 days in isolation in Kathmanu before returning to Everest Base Camp alongside a number of other CTSS teammates who also contracted Covid-19 during the expedition. His 'Deep Roots' podcast provided details of these experiences, including Covid cases within the expedition. CTSS cancelled their final summit push (which included Damian) on 24th May, citing an outbreak of Covid-19 in their Sherpa team at Camp 2. Damian traveled to Nepal from Brisbane at a time when non-outbound travel from Australia was strictly prohibited, however as he was in Australia on a temporary travel visa, he would have been permitted to leave (but getting back in later would likely prove difficult).
---
Damians expedition was the most headline grabbing of the Irish climbs as detailed in his delayed podcast. The entire podcast is something of a cautionary tale… From arriving a week late with rushed preparation, to missing out on a critical adaptation climb in favour of bonding with his team at Base Camp, to being evacuated from Base Camp after testing positive for Covid 19, and despite having significantly symptoms during the illness, returning to the mountain less than 10 days later once symptoms passed, to push on with the climb. Damian was only able to fit in one rotation up the mountain prior to his planned summit push and on that rotation he struggled to get higher than Camp 2 (not surprising given how little adaptation he had by then). By 15th May he reported in his podcast that he was taking Dexamethasone at base camp to aid with lingering Covid symptoms. Dexa is a steroid which is in your medical kit for emergency use to aid rapid descent if you develop acute mountain sickness up high and need to get down to safety. As a rule, you never take Dexa prior to or on your ascent as it can mask a range of altitude sickness symptoms which, if discovered too late, might mean you are beyond saving up high. In any event, if you are having to take Dexa for lingering Covid symptoms after returning to EBC, then you really shouldn't still be on the mountain!
After his expedition was cancelled on 24th May, Damian pondered openly in his podcast about the possibility of paying a Sherpa (not a Sherpa guide, but a carrying Sherpa) to enable him to head up the mountain independently from CTSS. When you map out his expedition and compare it to a typical CTSS ascent profile, it is obvious that he was woefully under-adapted at that point and if you match that to his updates in the daily podcast it is clear he was in no condition to be taking on any summit push, much less a rogue solo run with no trained guide and with cyclones swirling around the upper mountain. Hard graft, mental fortitude and extreme risk taking is essential in many extreme exploits (and has it's place on Everest too), but on the high mountain you must balance drive and risk taking with the importance of physiological adaptation to altitude, or you risk death when you extend too far up high. Damian's social media during the expedition was also curious because his podcast was delayed by 3 weeks (in part to avoid a bombshell about Covid in CTSS team hitting the public domain in real time) and his social media team were continuously deleting any questions or comments from the public on what was going in real time with the mission, and often blocked users who asked any sort of questions about the climb. Damian openly admitted during the podcast (first and last episodes) that the driving force behind his climb (and the podcast) was financial, hence podcast listener-ship was a priority. His time on the mountain was a mixture of strange decisions and questionable judgement. 
Everest 2021
– The Wider Picture
It was a record breaking season for foreign climbers in Nepal. The Ministry of Tourism summary for 28th April 2021 shows permits issued to 84 teams, covering 740 foreign climbers for 16 different peaks. Everest accounted for 44 teams consisting of 408 foreign climbers (77% Male / 23% Female). It will take some months to establish how many summits there has been this season. The Everest News site claims 182 of the 408 foreign climbers stood on the summit, while blogger Alan Arnette puts the figure at 195 of 408 foreign climbers, and adds that 339 Sherpa also reached the summit to give a total of 534 summits, which is less than previous years, not least because of the quantity who had to abandon their climb due to Covid-19, weather & other reasons.
| Nepal Peaks | 2019 Teams | 2019 Members | 2021 Teams | 2021 Members |
| --- | --- | --- | --- | --- |
| Ama Dablam (6814m) | 5 | 49 | 2 | 27 |
| Annapurna I (8091m) | 3 | 23 | 4 | 44 |
| Barun Tse (7129m) | 0 | 0 | 2 | 15 |
| Chamlang (7321m) | 1 | 10 | 0 | 0 |
| Chhopabamare (6109m) | 1 | 2 | 0 | 0 |
| Dhaulagiri I (8167m) | 2 | 5 | 5 | 33 |
| Everest (8848m) | 33 | 362 | 44 | 408 |
| Gyalzen Peak (6151m) | 2 | 6 | 0 | 0 |
| Himjung (7092m) | 1 | 4 | 0 | 0 |
| Himlung Himal (7126m) | 2 | 12 | 1 | 7 |
| Kanchanjunga Main (8586m) | 5 | 33 | 0 | 0 |
| Kangbachen (7903m) | 1 | 2 | 0 | 0 |
| Kumbhakarna (7710m) | 1 | 3 | 0 | 0 |
| Langtang Lirung (7234m) | 1 | 2 | 0 | 0 |
| Lhotse (8516m) | 8 | 75 | 13 | 123 |
| Makalu (8463m) | 4 | 53 | 2 | 20 |
| Manaslu (8163m) | 0 | 0 | 1 | 1 |
| Mustang Himal I (6195m) | 0 | 0 | 1 | 2 |
| Nuptse (7855m) | 2 | 27 | 4 | 38 |
| Pasang Lhamu (7351m) | 1 | 4 | 0 | 0 |
| Pumori (7161m) | 1 | 11 | 2 | 9 |
| Ratna Chuli (7128m) | 1 | 5 | 0 | 0 |
| Saribung (6346m) | 1 | 12 | 1 | 2 |
| Tengkangpoche (6500m) | 0 | 0 | 1 | 2 |
| Thapa Peak (6012m) | 2 | 5 | 0 | 0 |
| Tilichho (7134m) | 0 | 0 | 1 | 8 |
| Tukuche (6962m) | 0 | 0 | 1 | 1 |
2021 vs 2019 Comparison:
The last proper season was 2019 because Nepal was closed in 2020 due to Covid-19. The 2021 season comparison is as follows:
▲ More permit revenues (+ $293k)
▲ More teams on Nepal peaks (84 vs 78)
▲ More permits for Nepal peaks (740 vs 705)
▲ More teams on Everest South side (44 vs 33)
▲ More permits for Everest South side (408 vs 362)
▲ More permits for Lhotse (123 vs 75)
▲ More permits for Nuptse (38 vs 27)
▲ More permits for Annapurna I (44 vs 23)
▲ More permits for Dhaulagiri (33 vs 5)
▼ Less permits for Kanchanjunga (0 vs 33)
▼ Less permits for Ama Dablam (27 vs 49)
▼ Less permits for Makalu (20 vs 53)
It was a record breaking Spring season for permits and permit revenues in Nepal, and on Everest. The numbers also show a record breaking year on Annapurna I and Lhotse too. Permit revenues for Spring season 2021 came to $4,650,980.00 compared to $4,357,250.00 in 2019. So the 2021 season saw a rise in permit revenues by + $293,750.00 compared to the 2019 Spring season, even with the Covid threat. ($ = USD)
Covid on Everest
– Was it a big problem?
Covid was the massive elephant in the room this season. The Nepal government denied it's existence on Everest from the start of the season to the end of it, despite report after report emerging from base camp throughout the season. Some expeditions closed ranks and kept quiet – afraid of a backlash from the Nepal authorities. The silence was often deafening. 
In early April, the Kathmandu Post reported that only 1 in 10 people in Nepal with Covid symptoms were taking a test, no contact tracing was in place, vaccination had been halted, and people were no longer wearing masks or social distancing. There was also the problem of locals not adhering to protocols because of a belief that their religious faith would protect them from the virus (not dissimilar to what goes on in parts of western society too). This is much less talked about, but was also a factor that had to be considered when looking at the overall risk profile in Nepal as the Spring season got underway. 
The Nepal government decided at the start of April to remove quarantine requirement for arrivals. This was clearly aimed at oiling the wheels for those lucrative permit revenues. Many climbers and expeditions who were in quarantine at the time of the rule being lifted bolted straight out of their hotels and headed for Lukla as quickly as they could, and many who arrived post the rule change, certainly didn't take it upon themselves to sit tight in the hotel for 10 days, to do the right thing, and be sure they had not transported any variant into the population. The core responsibility for protecting the population from any risk posed by incoming travelers rested with the Nepal government, and they deserve all the criticism they get on that front. However there was also a responsibility on expedition owners to ensure they adhered to quarantine protocol norms irrespective of local government decisions. Some expedition owners simply obfuscated that responsibility. 
It is very difficult to establish the Covid case levels on Everest this season. If you use a variety of media interviews given by expedition owners at the end of the season, coupled with reports online from various expedition members throughout and after the season, you can compile this first order estimate of Covid cases on Everest:
🇳🇵 Seven Summits Treks = 30 to ??

🇺🇸 Climbing the Seven Summits = ~ 30

🇺🇸 Mountain Trip = 6

🇺🇸 IMG = ~5

🇦🇹 Furtenbach = 7

🇳🇵 Kaitu Expeditions = 2

🇳🇵 Elite Exped = 1

🇳🇵 Snowy Horizon = 1

(+ Sherpa with Covid = 77)
By 23rd May, at least 77 Sherpa had tested positive for Covid-19 according to Arthimaya Tamang (quoted in The Telegraph in this article), the coordinator of the health section in the Khumbu Pasang Lhamu rural municipality, which incorporates the small villages surrounding Everest. Some of that Sherpa number will also overlap with the expedition totals as well. It is unlikely that the final total will ever be known as expedition teams are fearful of media interaction in case of backlash from Nepal authorities, and others are fearful of backlash in the press if their team is fingered as having had spread without proper quarantines or without the expedition itself being isolated. The available public domain information suggests the number is confidently in the region of 100-150 confirmed Covid cases on Everest this season, and possibly more. Expand that estimate to include the wider community of porters and others who interacted with those positive cases along the route, and the invisible footprint of Covid in the Khumbu this season starts to becoming alarmingly apparent. 
Pemba Dorjee Sherpa, a mountaineering guide who has summited Everest nine times, told Al Jazeera on 17th June that he tested positive in late May shortly after returning from Everest base camp. "I was having symptoms like cold and mild body aches. Because these symptoms are common in the mountains, I didn't bother much about it" he said. The 47-year-old ended up passing on the virus to his wife and two children, who then had to isolate in their home in Pangboche, a village five kilometres from the Everest Base Camp. Several members of Pemba's team also tested positive, and he said 15 of the 100 houses in the village had confirmed Covid cases at that point in time.
Covid on Everest
– Was it predictable?
Could the climbers or expedition companies have known about the rise in cases in Nepal before they departed? I analysed the case data for India and Nepal from 1st January 2021 until 20th May when most summit pushes had completed. The results are as follows:
From mid March we can see cases in India are on the rise, but by then the investment in expedition infrastructure and personnel in Nepal had been sunk by all expeditions and it was too late to turn back. The case levels in India and Nepal were objectively not worrying enough at end of March and very beginning of April to have cancelled the expeditions. The rise in cases was so rapid and steep thereafter that it quickly felt wholly irresponsible from afar to have carried on with expeditions in the light of such spread. However if we take ourselves back to 1st April with no future view of cases, it is not so easy to reach that conclusion based on the available data. Cases were objectively too low at end of March to cancel, but surely people who plan expeditions with painstaking detail (as all Everest climbers and expedition leaders do), would have done the research and been aware that they were landing in a country with no testing, no track and trace and less than 1% vaccinated?

Whether you looked forward or backwards on the issue, it was never a good idea to travel to a vulnerable country such as Nepal without being fully vaccinated, and even more irresponsible to sidestep 10-day quarantine on arrival. At the very least, expedition teams or the Nepal Government (or both) should have set full vaccination as a pre-requisite for joining teams and/or insisted on that post arrival quarantine. That did not happen for a great many, nor did many of the expedition companies check whether their members were even permitted to travel to Nepal at all.
Porters and tea-house staff who invariably interacted with teams throughout the season were left exposed and did/do not have the luxury of quarantine periods or lateral flow testing to set their minds at ease on infection risk. Nor did many of them have any money in their pockets after a year without climbing activity in 2020. Hence the rules associated with Covid (masks, distancing) understandably slipped down the priority list for many locals. Add to that a skepticism locally at measures being introduced to reduce spread. In the context of all of this, and in an ecosystem with little or no PCR testing, no robust track and trace and less than 1% of the population vaccinated, the responsibility (moral and physical) fell to both the government & expedition teams, and to varying degrees each failed in those responsibilities this season. By May 22nd Nepal had recorded the highest Covid transmission rate in the world. The vast majority of that was coming across the border from India, but an unnecessary subset (> 100 climbers and an unknown quantity of porters, tea-house employees and others along the Khumbu route) occurred on Everest and placed an avoidable burden on a health system which had already struggling by May. 
Covid on Everest
– The Oxygen Debate
Another fiery debate raging during the Everest Spring season was around the thousands of cylinders of supplementary oxygen stacked at Everest Base Camp to be ferried up the mountain in May for climbers on their summit push. The stock answer from expeditions and climbers who were challenged on this point was that these bottles were not compatible with hospital or ICU requirements and therefore ferrying the cylinders down the mountain to alleviate the acute shortages in Kathmandu and other areas, was pointless. But is that true?
The reality is that those oxygen cylinders would have been useful in Kathmandu during the acute and deadly shortage of bottled oxygen in late April and May. For ICU use, it is true that the medical mask/cannula would not fit on the regulator on a mountaineering cylinder and the cylinders would not adequately marry with the oxygen delivery system without alterations. However you could convert a mountaineering cylinder to a medical cylinder for non-ICU use by fitting it with an appropriate valve/regulator and couple it with the right tight-fitting mask such as those used on the mountain to reduce leakage. In that scenario the Everest cylinders would have been useful for non-acute purposes in absence of any alternative. Sailplane pilots transfer valves/regulators on a regular basis for their high altitude flights for example. The thousands of cylinders at Base Camp which were photographed regularly throughout the season and posted on social media by a variety of tone deaf climbers could have been ferried down the mountain in days to aid in the crisis in Kathmandu – all that was required was leadership and coordination from Base Camp and the will to do it. It would mean the end of expeditions for a great many, so is not a decision that would have been taken lightly, but given the gravity of the crisis in Kathmandu and elsewhere, it is surprising that the issue did not warrant consideration.
Now I will say that if the government wanted those bottles, they should have been prepared to pay for them. The sunken cost by the expedition teams should have been met for those bottles so that expedition companies did not end up in serious financial strife as a result of any decision to deploy oxygen down the mountain rather than up it. Alas, none of that ever happened. Nobody led the charge from the Everest side to attempt any such crisis-averting measure, and nobody from the government led the charge because they did not want hundreds of angry climbers to deal with when their mission had to be cancelled for the greater good. Both settled on a pathetic strategy to drop off any unused bottles at the end of the season – I wonder how many ever did? As a result, the sight of thousands of oxygen bottles being carried up to Camp 4 while people were struggling and even dying in Kathmandu due to lack of oxygen, became one of the most enduring & controversial dichotomies of this season.
Covid on Everest
– Expedition Team Insights
Let's examine the Covid experience for a small selection of expedition teams:
Mountain Trip: 
Mountain Trip had planned two rotations followed by a summit push this season. On their first rotation, 1 client pulled out due to stomach issues and another client had to be evacuated from Camp 2 with very low oxygen saturation levels. In addition one of their guides got sick (breathing issues, fever, flu like) and had to be evacuated too. So the team of 7 clients, 2 guides and 14 Sherpa was down to 5 clients, 1 guide and 14 Sherpa by end of the first rotation. On rotation #2, the team was at Camp 2 about to head to Camp 3 when Sherpa started to display Covid symptoms, hence the whole team was ordered back to base camp. All were tested (lateral flow I am guessing since there was no PCR testing on the mountain), and all clients were negative, but 2 Sherpa tested positive, and evacuated to hospital in Kathmandu. The rest of the expedition quarantined for 5 days (not the usual 10 days that you or me would have to quarantine here at sea level if we were deemed a close contact). The clients then went down to Dingbouche to gain some lower altitude ahead of their summit push, and when they got back to EBC the entire team was tested again. This time 4 more Sherpa tested positive, while one other Sherpa had to retire due to an injury. So the Sherpa team of 14 was now down to 7. Even then (with half of their carrying Sherpa gone) Mountain Trip decided after lots of debate on the issue to continue with a smaller team of Sherpa and tested everyone again before preparing for the summit push. Everyone tested negative. But cyclone Yaas came into play at that point and caused their likely summit window to be pushed to 30th rather than 27th May, and it was that realisation that became the final deciding factor for the cancellation of the Mountain Trip expedition. All of this detail was placed into the public domain in June 2021 via an Instagram interview posted by one of their clients after the expedition was over.
---
Madison Mountaineering: 
Madison Mountaineering consistently claimed throughout the season that they "did not have any Covid cases in their team that they know of" and that their protocols on the mountain had protected them from spread.  Garrett told Alan Arnette in a video update mid season that their team was operating a secure bubble at Base Camp. This secure bubble claim seemed to come unstuck when team members posted videos of themselves jumping into helicopters and headed back down to Namche in early May for some recovery at lower altitude ahead of their summit push. On April 30th, five of the Madison clients were evacuated following the teams first rotation, with little details provided around the reasons for the evacuations. Ronan Murphy reported on his social media that same day… "Heli pick up out of Camp 2. Five people of the starting group have now departed the expedition for various reasons". On use of helicopters that high up the mountain he posts… "If you are unwell or injured or exhausted you can get a heli back to base from as high as camp 2". These evacuations led to speculation at sea level as to whether sick clients were being pushed onto helicopters and evacuated off the mountain before any testing could be done so that teams could continue to maintain that there was no Covid in their expedition 'that they knew of'. There was also video footage posted on social media showing their Puja ceremony with no distancing or spread prevention protocols visible. If Madison Mountaineering survived the season without Covid cases, it was evidently by luck not design. The many evident contradictions regarding Covid protocols and strictness within the team is unfortunate because in mountaineering terms their summit push deserved lots of credit. They had a 10-day summit push between two cyclones, which led to 2 nights spend on the South Col while trying to thread the needle between cyclone Tauktae and cyclone Yaas. Their summit success was hard won, harder perhaps than many other teams over many other years, putting 34 people on the summit on 23rd May.
---
Climbing the Seven Summits: 
CTSS had one of the bigger groups on the mountain, with multiple different teams and by far one of the most elaborate base camp setups of this or any season. Irish climber Damian Browne was a client with CTSS and his delayed daily podcast offered a unique insight into what happened within the CTSS expedition. Damian reported on 25th April that he had tested positive (with symptoms) for Covid-19 along with 3 of his teammates (1 was symptomatic, 2 non-symptomatic). He also reported that 8 members of one of the other CTSS teams had tested positive for Covid in the days prior, and had been evacuated to Kathmandu. It is worth stating that CTSS was one of only a few teams testing throughout the expedition. In total he reported that 12 people had tested positive in the team by 25th April. In theory we should then have seen all activity stop in the CTSS team for 10 days with all personnel isolated for 10 days at EBC as possible close contacts. That doesn't appear to have happened – you can trace the teams movements in the days after the evacuations via their own social media, with no stop implemented. By 29th April, Damian reported from Kathmandu (where he was in isolation) that 9 of the team members were still in isolation in the hotel, 1 was in hospital and that 5 of the 9 would be heading back to Base Camp next day on 30th April. The criteria for returning to EBC was cited as 1) negative PCR test, 2) clear ECG and 3) clear chest X-ray. By 3rd May (8 days after his evacuation) Damian was back in Lukla and waiting for weather to clear to get a helicopter back to Base Camp to continue his climb. Progress continued for the CTSS team following the return of the Covid members from Kathmandu, with two of the three CTSS teams able to mount successful summit pushes. However by 15th May Damian reports consternation in the camp as clients returning from the summit report a veritable "shitshow" on the high mountain with issues over missing oxygen, oxygen regulators, insufficient food and water at Camp 4, no tents at Camp 4 and little tents available at Camp 3. One of their climbers was evacuated from Camp 2 due to HACE and with frostbite on both feet while another was evacuated from base camp. One client reached the summit on her own, with no Sherpa and having run out of oxygen en-route. Tempers were high with remaining clients wondering why the infrastructure they paid for was not in place ahead of their upcoming summit push. Finally on 24th May Covid had got into their Sherpa group at Camp 2. Of the 6 Sherpa who returned to EBC that day, 5 tested positive for Covid. In addition, another 4 Sherpa were symptomatic at Camp 2 and one was on oxygen. Apparently the cook at Camp 2 caught the bug and the rest of the group rapidly became infected. This meant that the final Western Guided team and Damian had no Sherpa available to make a summit push because they all had Covid. The total number of Covid infections in the CTSS expedition during the season was likely ~ 30 people by this point. Listen to 'Deep Roots' podcast for details – especially Days 15, 20, 23 & 45. The CTSS expedition probably had the most people test positive and then return to the mountain post isolation to continue their climb. The long term impact of Covid is still being discovered, and continuing to extreme altitude with all that entails for your lungs was a very questionable gamble indeed. Something clearly went awry within the CTSS team regarding strict protocols. Hopefully Mike Hamill will be able to shed some light on a very complex season at some stage soon.  
---
Elite Exped: 
Nims Purja and his Elite Exped team arrived at Everest following a victorious and widely acclaimed first Winter ascent of K2 in February. His expedition contained three UK-based clients, two of whom (Dan and Steve) had flown to Nepal from UK during the travel ban. Steve Davis (who flew from Manchester to Nepal on 4th April during the UK lockdown and travel ban) then became the second confirmed Covid-19 case on the mountain. In his blog, Steve writes that he started feeling unwell on 19th April, and on 20th April was evacuated down to Namche with suspected HAPE. By 22nd April he reports that his cough was getting worse, and spends the day in Namche, visiting the cafe and one of the bars, as well as getting his hair cut. With no improvement by 23rd, Steve was evacuated by helicopter to a hospital in Kathmandu where he tested positive for Covid-19 and would spend the next 3 days in ICU. He did not resume his climb. If you follow the Elite Exped social media output during this period you will find that there was no 10-day quarantine imposed on everyone in their team following the confirmation of the Covid-19 positive test on 23/24 April. On 16th May, Angela Benavides (Sports journalist and writer with Explorers Web) posted a story of a party the Elite Exped team was hosting at base Camp, under the caption "Party at Everest Base Camp yesterday. Dancing, singing, several teams, no masks, no distance, some of them straight from Annapurna-Dhaulagiri… Seriously, what on earth are these people thinking about?". It is not difficult (using public domain information posted by their own members in fact) to disprove the theory that Elite Exped was following the strict protocols they and Nims claimed they had followed, or that the team was operating a strict bubble on the mountain. As with other teams, the fact that they didn't have more infection seems to have been more by accident than design. The end justifying the means and all that! This is a real shame because in mountaineering terms the summit push by Elite Exped amidst the threat posed by cyclone Yaas and some dreadful weather was extremely noteworthy and impressive. 
---
Seven Summits Treks: 
By far the biggest expedition outfit on the mountain with 130 clients across multiple different teams, including the Bahrain royal family team. Prince Mohammed bin Hamad who successfully reached the summit of Everest this season, came in for deserved criticism for taking a helicopter from Camp 2 off the mountain on his descent. Indeed there seemed to be a pattern emerging this season of people deciding the descent might be too tough, and calling in the chopper to take them back down. Images emerged during the season of the Puja ceremony involving their Indian team with no distancing or protocols evident at all. In the SST blog post the successful summit of the Bahrain team, SST wrote… "Although Nepal has had very few infections from the virus, they have rightly had to enforce a very stringent 'lockdown' procedure which has seen all commercial flights into the country halted for an unspecified period of time". An impressive piece of PR considering how far and fast Covid cases had risen by that point in time. By the first week of May, Mingma Sherpa of SST was quoted as saying… "If we conduct COVID-19 tests among the climbers, some of them may test positive for the virus. But none of them so far has shown any serious health complications except for common cold and coughs". This suggests a strategy of 'do not look and you will not find' among certain expedition teams. At the end of the season the Seven Summits Treks chairman Tashi Sherpa told the media that there had been 30 people tested positive in their team. However he downplayed the impact of Covid on the season. Mingma Sherpa told the Associated Press on May 29th that… "Even though the coronavirus has reached the Everest base camp, it has not made any huge effect like what is being believed outside of the mountain. No one has really fallen seriously sick because of COVID or died like the rumors that have been spreading." Seven Summits Treks had a very successful series of summits, some in tricky weather, so one wonders if the need to bend the truth on Covid came from a need to avoid conflict with their own ministry?
Dr. Tarun Rana (team doctor for the Indian Central Armed Police Force (CAPF) team) within the SST expedition team had set up a medical tent at Base Camp, and told the Indian Express newspaper that he treating about 200 Covid cases, relying largely on a single 10-litre medical oxygen cylinder, some life-saving drugs and steroid injections, with oxygen having to be rationed and adverse conditions at the altitude of over 5,600 metres making any evacuations difficult. He said… "There were almost 280 climbers of which about 200 were suspected Covid-19 cases. About 20 patients were pretty serious".
---
Kaitu Expedition: 
The Icelandic duo of Sigurdur Sveinsson & Heimir Hallgrimsson were climbing within the Kaitu Expedition setup on Everest this Spring. They reported to media after the expedition had ended that they began coughing as they reached around 7000m, and suspected they had caught Covid. They managed to make it to the summit on 24th May, but their Covid symptoms became stronger as they descended. By the time they both reached Camp 2 they were very sick from coughing, headache and other fatigue. They needed to get down as fast as possible. Both of them tested positive when they reached base camp and isolated in their tents. 
---
Furtenbach Adventures: 
Furtenbach Adventures was the first expedition team to cancel their expedition on May 15th, reporting 7 positive Covid cases (1 Member, 1 Guides, 5 Sherpa) in their team which consisted of 20 members, 28 Guides & Sherpa and 12 Kitchen staff. In a very informative interview with Alan Arnette on 18th May, Lukas mentioned that his team had close contact with an Indian team in the icefall after their final rotation, which was the only big contact with another team during their expedition. Soon afterwards, one of their American clients fell ill, tested positive and was evacuated to Kathmandu. Thereafter 1 Guide and 5 Sherpa also tested positive (some symptomatic, some not symptomatic) too. The cancellation was also driven by legal exposure presented by people climbing high into the mountain with known Covid spread on the mountain. He cited the following problems at EBC during interviews given to the media after his cancellation:
– Partying across base camp.
– Little testing going on in teams.
– People breaking bubbles to return to lower altitudes for recovery.
– Protocols not being adhered to by various teams.
Lukas confirmed that his team was testing regularly throughout their mission, and states that he knew of two other teams who were testing regularly (CTSS and IMG). His expedition team avoided descending back into the valley for recovery during the expedition (which other teams were doing), and avoided Sherpa returning to their home villages during the expedition (which was a moot point for his Sherpa as they came from Makalu, hence were not returning anyway). It would not be unusual for Sherpa to return home for a period during the expedition, and for many teams this was happening in the Spring 2021 season too. Lukas was quoted soon after his cancellation as saying… "Every day now there are people that are being evacuated [by helicopter] from Base Camp that have tested positive for Covid-19". While in Kathmandu after his cancellation, Lukas told the media… "I produced evidence of 10 infections to the Department of Tourism after I was asked to submit a full report including our evidence." In the days and weeks following his cancellation, Lukas provided refreshingly blunt and straight forward interviews on his experience and held his hands up and admitted that in hindsight he would not have gone to Nepal for the Everest expedition if he could do it all over again. It is worth noting that the upcoming Furtenbach Adventures Autumn expeditions include a requirement that all members must be fully vaccinated.
---
International Mountain Guides: 
IMG posted a long and rather interesting season wrap-up piece on their website (here). IMG was one of the few teams on the mountain who were actively testing throughout the expedition. They outlined the measures taken to test their team members and staff throughout  in their post season wrap-up and do not hold back in criticising teams who they believe sent positive Sherpa home at the end of the expedition, knowing the consequences of that action. IMG states the following in their post season summary… "While some expedition teams worked on getting their flat screen TV's, queen beds and espresso machines to Base Camp, we worked on sourcing over 2,000 CV-19 test kits. Those test kits were a huge asset for our expedition and enabled us to repeatedly test all our team members, including our Sherpa staff, over the course of the entire expedition, starting on the trek to BC and right on through to the last day at Base Camp. By utilizing testing we were able to immediately isolate the very small handful of individuals who did test positive during the trip and immediately shift them to quarantine. Before discharging any of our Sherpa staff from Base Camp, we did one final round of CV-19 testing, and the entire IMG sherpa team (47 individuals) tested negative. Then, we sent each of them home along with a generous supply of test kits to ensure that they could re-test over the next few days to prevent spread into their villages and also to test their families if that became necessary. Had any tested positive, we were prepared to set up a fully supported camp for them down at lower elevation where they could safely quarantine before going home. It saddens me to say that some expeditions discharged Sherpas who had tested positive for CV-19, knowing full well that they were headed immediately back to their villages and families." With the exception of a rather tone deaf posting about oxygen cylinders (which was later deleted), it seems IMG done more than most in attempting to avoid, identify and isolate spread, but they too had a handful of positive cases. That alone speaks volumes for how much spread there must have been around the camp.
---
Alex Txikon: 
The Spanish climber Alex Txikon (39) and his colleagues were the first climbers to their expedition due to Covid on May 10th, citing concerns about the 'health' on the mountain. In a message on social media, Alex said: "We consider the expedition concluded out of a sense of responsibility due to pandemic advance. A thoughtful and consensual decision between Sendoa, Iñaki and myself after acclimating in C2 last two nights and having verified that the health situation of the entire mountain is complicated". Alex spoke to media post the expedition being cancelled about people 'disappearing' from base camp as news of Covid spread across base camp slowly started to drip out.
Everest 2021
– Englands Travel Ban
One of the recurring questions regarding Everest climbers based in England for example was… how did people travel? There was a legally binding ban on all international travel from mid February to mid May 2021, with specific exceptions. The devil is in the detail on this (Government link here), so I have listed the exemptions and zoned in on those exemptions which some of the climbers have claimed applied to them this past Spring season.
I was able to find at least 12 persons based in England who traveled to Nepal in Spring 2021 to climb Everest – there may be others, but the point of the travel ban issue can easily be made using these 12 examples. Two of the twelve were guides (Jon Gupta and Kenton Cool) who were guiding clients 1-2-1 on Everest this season, hence were able to travel for work purposes. However ten others (listed below) were not working as guides or expedition leaders, and the ability of a great many of them to fly to Nepal during a travel ban when England was in lockdown and when a 'stay local' order was in place across the country, begs many serious questions:
Tim is an expedition leader and B&B owner, who is typically found on Everest each year leading his own expedition team. However this year he was not managing any expedition team or guiding any clients. A news article from mid May in a local newspaper quoted Tim as follows… "I'm not leading anyone this time, just here on a solo trip trying to get some summit panoramas". Tim successfully climbed Everest and Lhotse, and attempted Pumori, along with his Sherpa guide, while sharing Madison Mountaineering high camps on Everest with UK guides Kenton Cool and Jon Gupta and their respective clients, and taking some panorama photos along the way.
Marta is based in London and was a client with the Mountain Trip expedition team this season. Marta told a podcast in March that after putting off her 2020 Everest expedition due to Covid, she was simply not willing to push the expedition off by another year (regardless of Covid). She talks about the travel restrictions in UK and claims that travel from UK was allowed if work related and that sports people were allowed to travel. Marta further claims to fits into those definitions "when you dive into the small detail". However a detailed examination of that detail in the travel ban rules on the UK government website showed that not to be the case. She was a client heading to Everest to climb a mountain for personal reasons as a paid-up member of a commercial expedition. It is difficult to see how Marta (who was not there to work on the mountain as a guide or mountain worker, does not fall under the definition for elite sportsperson competition, and was not traveling to Nepal to conduct in-country charity or volunteer work) could have qualified to travel under any of the exemptions to the Travel Ban, but nonetheless managed to do so.
Dan is based in London and was a client with Elite Exped. On 17th March he posted an article on his upcoming Everest expedition on the his company website. The article noted that he departed for Nepal on 31st March – It is difficult to see how Dan (who was not there to work on the mountain as a guide or mountain worker, does not fall under the definition for elite sportsperson competition, and was not traveling to Nepal to conduct in-country charity or volunteer work) could have qualified to travel under any of the exemptions to the Travel Ban, but nonetheless managed to do so.
Steve is based in York and was a client with Elite Exped. In his blog on his website on 5th April Steve confirmed that he flew to Nepal from Manchester airport via Doha, arriving in Kathmandu on 4th April. Steve fell unwell at Base Camp on 19th and 20th April and took a helicopter to Namche to recover from what was believed to be HAPE symptoms. However after getting worse, he took a helicopter to Kathmandu on 23rd April where he was admitted into a hospital where on 24th he was confirmed to have Covid-19. It is difficult to see how Steve (who was not there to work on the mountain as a guide or mountain worker, does not fall under the definition for elite sportsperson competition, and was not traveling to Nepal to conduct in-country charity or volunteer work) could have qualified to travel under any of the exemptions to the Travel Ban, but nonetheless managed to do so.
Jessica is an author, producer & activist who has been taking on various physical and mental endurance challenges to raise awareness for causes she is associated with, causes which are indeed close to many of our hearts. Jessica was a client in the Climbing the Seven Summits (CTSS). It is unclear how Jessica (who was not there to work on the mountain as a guide or mountain worker, does not fall under the definition for elite sportsperson competition, and was not traveling to Nepal to conduct in-country charity or volunteer work) could have qualified to travel under any of the exemptions to the Travel Ban, but nonetheless managed to do so.
Simon is based in London and was attempting to become the youngest British person to complete Mt. Everest without supplemental oxygen (here), and was a client with Snowy Horizon Treks & Expedition. He reported on his Instagram account that he was climbing on a shared permit with each climber 'doing their own thing', but would share base camp facilities. Simon climbed with a Sherpa guide. When asked about the travel ban, he claimed that he was working on the expedition and that it was partially how he makes his living – albeit seasonal, and constituted work for him. The available evidence seems to show that he was a client, climbing with a Sherpa within the Snowy Horizon expedition and as such would not have qualified to travel under any of the exemptions to the Travel Ban, but nonetheless managed to do so.
Ardavan is based in London and was a client with UK based guide Kenton Cool. Unlike his UK guide (who qualified to travel for work purposes), it is unclear how Ardavan (who was not there to work on the mountain as a guide or mountain worker, does not fall under the definition for elite sportsperson competition, and was not traveling to Nepal to conduct in-country charity or volunteer work) could have qualified to travel under any of the exemptions to the Travel Ban, but nonetheless managed to do so.
Rebecca is based in Oxfordshire and was a client with UK based guide Jon Gupta. Nepal was to be the start of a marathon series of climbs for Rebecca and her UK guide Jon Gupta, starting with climbs of Everest and Lhotse. Unlike her UK guide (who qualified to travel for work purposes), it is unclear how Rebecca (who was not there to work on the mountain as a guide or mountain worker, does not fall under the definition for elite sportsperson competition, and was not traveling to Nepal to conduct in-country charity or volunteer work) could have qualified to travel under any of the exemptions to the Travel Ban, but nonetheless managed to do so.
Adriana is based in London & was a client with Elite Exped. She had already left UK for Pakistan to gain altitude experience via the Elite Exped K2 expedition in advance of the UK travel ban coming into place in February 2021. Hence no travel rules were broken. Upon her return, Adriana done a Q&A on Instagram and deserves credit for answering all questions asked by the public and not dodging any of the tricky Covid related questions posed by the public. It would be admirable for anyone, but for someone as young as she is, it was especially refreshing and commendable.
Oliver is based in London and was a client with Seven Summits Treks. He moved to Quito in Ecuador to live and train from early February (prior to the travel ban) to train and climb on various peaks and volcanoes throughout February and March to gain altitude adaptation in advance of heading to Nepal at the start of April. Hence, like Adriana it looks like he did not break any travel ban rule as a result.
---
For those listed above who were paid clients on commercial expeditions and who departed from UK to Nepal during the travel ban, it seems unbelievable that they would have simply gone to an airport to fly to Nepal for a $45,000 to $75,000+ expedition in the middle of a nationwide lockdown, during a 'stay local' order and in the midst of a strict international travel ban without having supreme confidence that their efforts to get through security and board the flight would prove successful. That's a heck of an expensive risk to take without certainty, especially when the available guidance on exemptions didn't provide certainty to any of the UK based climbers, except those going to Nepal for work. 
Many of those UK based climbers mentioned above were completely unvaccinated at the time of their departure to Nepal, while some had their first jab just prior to leaving. How any of the clients managed to qualify to travel to Nepal during the travel ban is something of a mystery at a time when outbound international travel from UK heavily restricted. It is not difficult to see how a great many in UK and Ireland might have found the behaviour of those breaking a travel ban in the middle of an acute global medical crisis, to pursue an individual goal at a time when so many are required to make significant sacrifices for the common good, to be somewhat egregious. 
Everest 2021
– The Cool Factor
Kenton Cool is a mountaineering icon and role model in UK and achieved a record-breaking 15th summit of Everest this Spring. However he guided a UK based client in Nepal this season and must have known that his client had to have broken the travel ban to get there (it is impossible that Kenton could not have known that). Astoundingly, Kenton's family also flew from England to Nepal on 23rd March, at a time when a) England was in lockdown, b) Stay Local order was in place throughout the country and c) Travel Ban was in place on all outbound international flights. During that period, the Cool family spend three weeks hiking with Kenton during the Easter holiday break, and blogged all about it publicly on Instagram (here) at a time when people in England were not allowed to go anywhere beyond their local area, had significant limits placed on visiting family/friends or visiting sick relatives or saying goodbye to dying loved ones. 
While Kenton made it to the summit, his client (Ardavan) did not. When their expedition began in March, did Kenton not know that his UK client would not qualified to fly to Nepal due to the travel ban which had been in place before their departure, or did he know and knew there was a workaround? Was there incompetence or complicity or something else? It is one thing for expedition teams like Madison Mountaineering or Mountain Trip not to know whether overseas clients in their team broke travel bans to get there (they should also have known and ensured it didn't happen too), but it is quite another when a UK guide is guiding a UK based client. That leaves no room for excuses or uncertainty, yet both would appear in Nepal climbing the mountain in April and May. 
A tale of two interviews 🎤

Lukas Furtenbach, full of remorsehttps://t.co/ncCzlg4LFm

Kenton Cool, unapologetichttps://t.co/ZWyBswvgGF

See how the contrasting outlooks of the interviewers lead in different directions, one to self-reflection, the other to self-justification

— Mark Horrell 🌋 (@markhorrell) May 26, 2021
Live Interview with the UK's Kenton Cool from Namache Bazaar. He's on #Everest2021 for his 15th summit! We discussed the allure of Everest, a bit of history, his own long-time interaction with the mountain, and the conditions this year. https://t.co/sCe8i6f6XW

— Alan Arnette (@alan_arnette) May 2, 2021
Of the various interviews done by expedition leaders and climbers post Everest, the sharpest contrast can be found between Kenton Cools interview and that of Lukas Furtenbach. The UK climber & writer Mark Horrell contrasted it well in his May 26th tweet… "A tale of two interviews: Lukas Furtenbach full of remorse, Kenton Cool unapologetic. See how the contrasting outlooks of the interviewers lead in different directions, one to self-reflection, the other to self-justification". Their respective interview links can be found in Mark's tweet (above left) along with a mid-season interview between US blogger Alan Arnette and Kenton (above right) ahead of which Alan made the decision not to discuss Covid as he felt that the issue had been discussed enough and there was no purpose in dwelling on a situation which Alan felt Kenton had no influence over for anyone at EBC. He informed Kenton of that decision prior to the interview. That is his privilege, it is his interview after all, but it seems a strange decision when interviewing a guide from one of the few countries in the world with both a travel ban and large Covid variant (Delta) spread, who was guiding a client on Everest this season who had also flown from that same country with that same travel ban and variant threat, and whose very presence on the mountain Kenton materially influenced by virtue of the fact that he was guiding that client up Everest. Kenton is a big proponent of taking risks and of climbers not necessarily being bound by rules, but there are times (during a once in a century health crisis for example) when we need everyone to row together and follow rules for the common good. Alas that was not the approach taken by the Cool household this past season.
Everest 2021
– In Conclusion
I enjoy being an annual evangelist for Everest and my little review of Irish climbs of Everest each year is typically full of congratulations and admiration. But this year I find myself unable to admire or congratulate everyone. Not everyone broke rules, not everyone twisted their messaging to avoid facing the hard questions. But this season many did break the rules, did manipulate their messaging, and are hoping that this will all blow over quickly so that they can get on with enjoying the spoils of their summit success. From the Nepalese government, to many of the expedition owners, to some of the individual climbers, it has been a season of dishonesty and poor judgement set against the backdrop of an acute pandemic crisis in Nepal.
Not every company decided to go to Everest this year. Alpineglow, Adventure Consultants, Jagged Globe & Mountain Madness all assessed the Covid risk and decided to sit it out. Mountain Madness decided to set up a fund to help those who would have been working with them this year but could not. Adrian Ballinger of Alpineglow spoke in an interview with Alan Arnette earlier this year about why he was not going to Everest this year. Much of what he predicted could go wrong this year, did go wrong this year. That is not to say that all teams should stay home as a rule, but if you are not ensuring that every single one of your expedition team and support crew are fully vaccinated, then you are not able to guarantee the safety of all those involved, nor can you guarantee that you and your team won't place an unnecessary burden on local health authorities. Why didn't teams decide to raise funds for the Sherpa, tea-houses and porters rather than running expeditions this season? Why didn't teams check whether their clients were even allowed to legally leave their home country to join? Why didn't teams ensure that quarantine on arrival was adhered to in Kathmandu irrespective of the lifting of the rule by the authorities? We were all more than a year into the pandemic by then, our knowledge allowed for good decisions to be made, yet many teams ignored it and pushed on as fast as they could. That is the opposite of what quarantine exists to achieve. 
I have generally pushed back against Everest bashing over the years. I don't agree that the mountain should be solely for the purists, and I dislike mountain snobbery immensely. I don't agree that mountaineering belongs to the few nor do I think that it should be a risk-free enterprise or roped from bottom to top. I also don't agree with allowing the numbers that we see annually nowadays and would favour a quota or cap to avoid queues. And I think that those who go there should be prepared and self sufficient rather than using the peak purely as a gateway to fame & fortune. I also believe that Nepal and Everest is a special place where capable people from varied backgrounds can make their dreams come true. However this season I found nothing but disappointment around the worlds tallest mountain, especially when contrasted against the immense sacrifices that people were making in their everyday lives back home. 
In an era when everyone in leadership seems to want to deceive to varying degrees, can we at least ask our climbing brothers and sisters, especially those in positions of authority & influence, to be transparent and act with integrity on their expeditions. Nobody should have been in Nepal unvaccinated, so just own that. Nobody should have gone back up the mountain if they had been symptomatic with Covid, so just own that. Some teams didn't maintain strict bubbles at base camp and had clients drop down the valley for recovery, own that too. When clients tested positive or became symptomatic, many expeditions did not enforce a strict 10-day isolation period for the entire expedition team, so own that. Many expedition teams didn't ensure that some of their clients from fast-spreading variant countries with travel bans should not have been there, own that too. Many teams were not testing for fear of finding positive cases that they would then have to deal with, so own that. When spread started, rather than calling it out and resetting the situation at Base Camp via mass testing, many expeditions kept quiet to avoid conflict with the ministry, own that too. We all know the ministry is a law unto itself, but the expedition companies are supposed to be the adults in the room. The season needed sunlight and transparency, and instead it got subterfuge and secrecy. 
Is the Everest class of 2021 therefore deserving of the legacy of the past 100 years? Breaking or bending rules to converge (mostly unvaccinated) on a vulnerable society in the middle of a global pandemic to climb a mountain with supplementary oxygen while supply was desperately needed in homes & hospitals in Kathmandu, all the while posting images of stacks of O2 cylinders or parties at EBC as cases spread rapidly, while invoking tired slogans and overused inspirational quotations to appeal to more followers, more listeners and more sponsorship. That cycle felt very wrong indeed this year when contrasted against the unfolding crisis in the valleys below. It is hard not to think that a unique opportunity was missed to shout 'stop' in early May and harness the incredibly talented community at base camp in support of the valleys below. Unfortunately that didn't happen. A few high profile climbers appealed via social media (after their expeditions had successfully concluded) for their governments to assist with aid, then signed an online petition and carried on with their lives. 
Upon seeing the now iconic team photograph of the 1921 Everest Reconnaissance Expedition a century ago, the Irish playwright George Bernard Shaw described it as 'A Connemara picnic surprised by a snowstorm'. If he was alive today, Shaw might well have chosen different 'storm' descriptor for the current and sad state of Everest. The history of any place is defined by the people who inhabit it. I sincerely hope that Everest, a century on from that historic first expedition, is not forever defined by some of those who climbed it this season. To the others who played by the rules and reached the summit, well done!
Covid 19
– Support for Nepal
To end on a positive note… Nepal Ireland Society and Ireland Nepal Chamber of Commerce organised a workshop in early May to look at opportunities to raise funds and secure equipment and supplies to send to Nepal to help with the ongoing Covid crisis. Amazingly in the space of a few weeks, the Nepal Ireland team, working in conjunction with the Irish Government and a bunch of other organisations and individuals, managed to secure the largest shipment of equipment and supplies of any EU country. The shipment included…
42 ventilators

50 defibrillators

1,126 oxygen regulators

99,750 protective coveralls

201,600 face shields

1,008,000 surgical masks
The team linked with on-site expertise in Nepal to determine exactly what was needed and tailored the shipment to essential items. The shipment arrived in Nepal on June 18th, around a month after the conference was held to look at what could be done to help. This was an incredible example of cooperation across organisations, and a vivid example of how highly Nepal is regarded, and how keen so many were and are to help.  It is one thing to demand that government take action… it is another to take the bull by the horns and make a shipment like this actually happen. Great credit must go to all involved – It has been a fantastic initiative to be involved with. 
Ireland today sent support to Nepal to help battle a serious Covid-19 surge. The shipment includes:

42 ventilators
50 defibrillators
1,126 oxygen regulators
99,750 protective coveralls
201,600 face shields
1,008,000 surgical masks

🇮🇪🤝🇳🇵

Details: https://t.co/au1g31jiUf pic.twitter.com/A4s9bleRof

— Irish Aid (@Irish_Aid) June 16, 2021
The author: Paul Devaney from Longford is co-founder of Irish Seven Summits and founder of Seven Summits Solutions which provides Aerospace & Digital Design services. Paul is an amateur mountaineer and has completed 6 of the 7 Summits and attempted Everest in 2014 and 2015. In both seasons his expedition was halted due to major incidents (Avalanche in 2014, Earthquake in 2015). Paul has climbed and trained in the Alps, USA and Middle East and has completed expeditions from Alaska to Antarctica. He currently lives in London, England.