The Seven Summits Challenge
The Seven Summits challenge was first completed by American Dick Bass in 1985 and involves climbing the highest peaks on all 7 continents including… Kilimanjaro (Africa), Elbrus (Europe), Aconcagua (S. America), Kosciuszko (Australia), Denali (N. America), Vinson (Antarctica) & Everest (Asia).
The Seven Summits challenge is split between the 'Bass' and 'Morrow' list – The difference between the two lists rests on a difference of opinion on what constitutes the continent of Australia. Some folks attempt the Bass list, others the Messner list and some complete both. The world record for the fastest Seven Summits challenge was once held by Irishman Ian McKeever in 2009 at 156 days, while the first person in the world to have completed the Seven Summits including descent to sea level was Noel Hanna. In recent years, as peaks become ever more accessible, further records are appearing and being broken.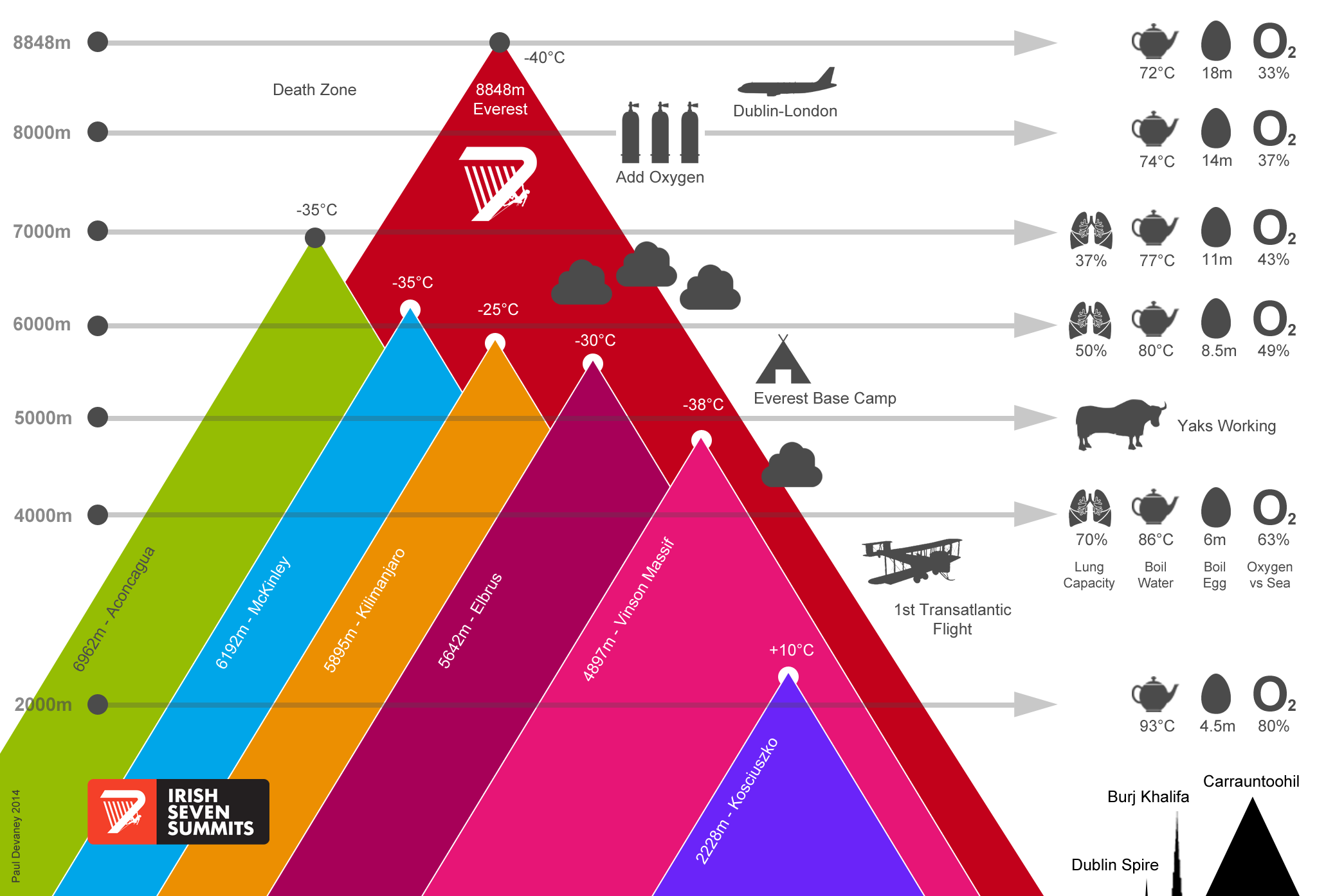 The list of Irish climbers (North and South) who have completed the 'Bass' Seven Summits list is as follows…
Pat Falvey (39) from Co. Cork in 1997
Pat Falvey (47) from Co. Cork in 2005
Clare O'Leary (34) from Co. Cork in 2005
Ian McKeever (37) from Co. Wicklow in 2007
Vivian Rigney (39) from Co. Dublin in 2010
Noel Hanna (42) from Co. Down in 2010
Robert Smith (42) from Co. Tyrone in 2013
Neill Elliott (42) from Co. Fermanagh in 2015
Mary Scannell (41) from Co. Kerry in 2016
Terry Kelleher (56) from Co. Dublin in 2017
To the best of my knowledge, the list of Irish climbers who have completed the 'Messner' Seven Summits list is as follows…
Ian McKeever from Co. Wicklow
Noel Hanna from Co. Down
Robert Smith from Co. Tyrone
Vivian Rigney from Co. Dublin
Bill Hanlon from Co. Wexford
Mary Scannell from Co. Kerry
If you have any new information or wish to correct any existing information, please feel free to contact me as I am always excited to receive new stats and more accurate inputs.
Seven Summits Costs
The cost of completing the Seven Summits challenge varies depending on your choices and when it was attempted. Our Seven Summits project cost approximately €150,000 per person up to and including the last Everest attempt in 2015.
The most costly expeditions are Antarctica and Everest. The disaster in 2014 meant a retry in 2015 (which ended after 25 days due to the earthquake and avalanche), hence the combined Everest costs exceeded €70,000. Training and equipment over the years also added significantly to overall costs. 90% or more of the costs were self-funded, with less than 10% coming from local donors.