The Seven Summits challenge was first completed by American Dick Bass in 1985 and involves climbing the highest peaks on all 7 continents including…
Kilimanjaro (Africa)
Elbrus (Europe)
Aconcagua (S. America)
Kosciuszko (Australia)
Denali (N. America)
Vinson Massif (Antarctica)
Everest (Asia)
The Seven Summits challenge is split between two options – The 'Bass' or 'Messner' list. The difference between the two lists rests on a difference of opinion on the definition of Australia or Oceania as the 'Continent'. Hence some folks attempt the Bass list, others the Messner list and some complete both (and Mt. Blanc) just to cover all bases. We are attempting the traditional Bass list. The total number of people who have completed the Seven Summits challenge worldwise is around 300. Our cost to date of completing the challenge is $150,000.00 per person.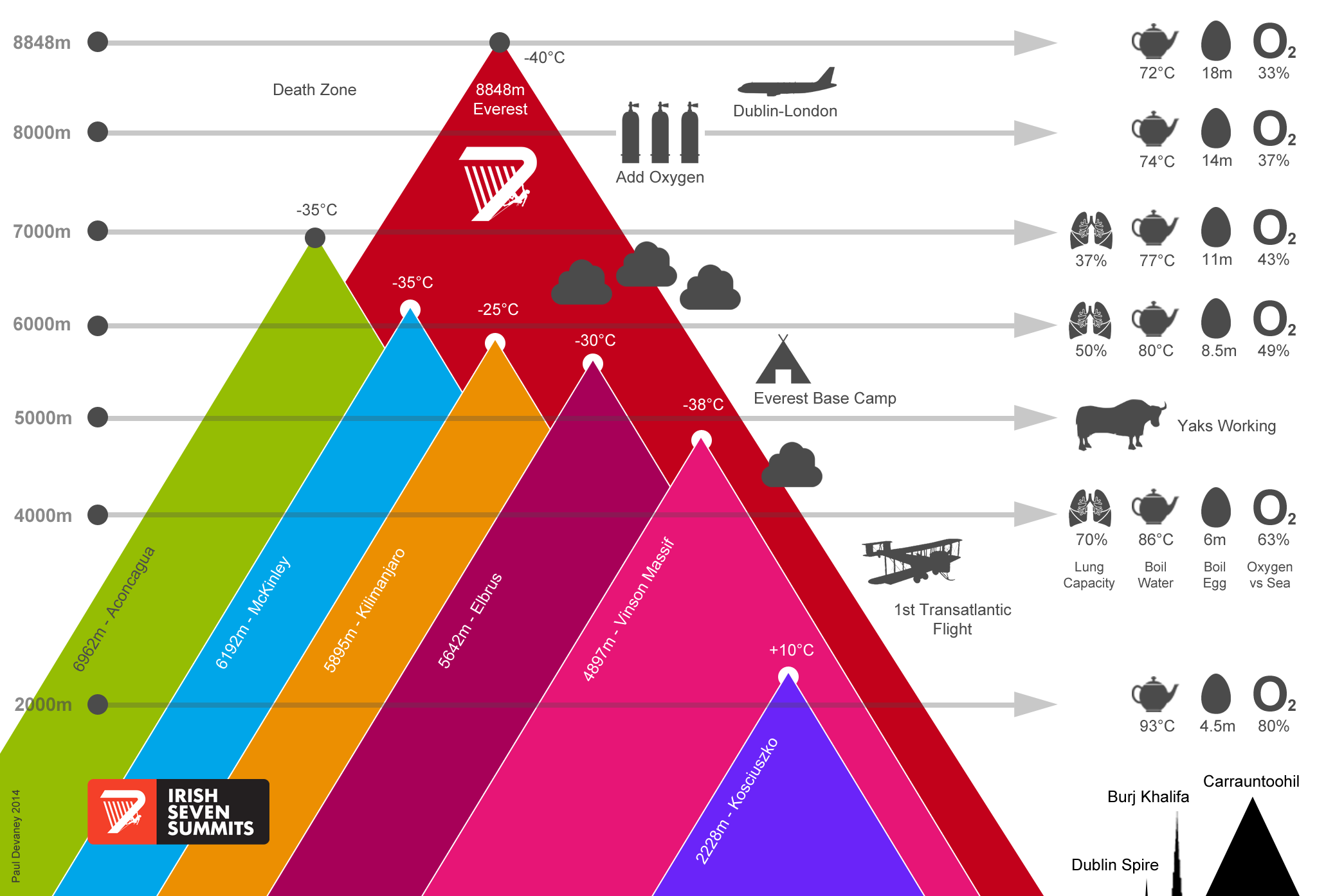 Seven Summits
– Irish Connection
The list of Irish climbers (North and South) who completed the 'Bass' Seven Summits list up to 2022 is…
– Pat Falvey (39) from Co. Cork in 1997
– Pat Falvey (47) from Co. Cork in 2005
– Clare O'Leary (34) from Co. Cork in 2005
– Ian McKeever (37) from Co. Wicklow in 2007
– John Dowd (53) from Co. Kerry in 2008
– Vivian Rigney (39) from Co. Dublin in 2010
– Noel Hanna (42) from Co. Down in 2010
– Neill Elliott (42) from Co. Fermanagh in 2015
– Mary Scannell (41) from Co. Kerry in 2016
– Terry Kelleher (56) from Co. Dublin in 2017
– Chris Bell (49) from Co. Antrim in 2022

To the best of my knowledge, the list of Irish climbers who completed the 'Messner' Seven Summits list up to 2022 is…
– Ian McKeever from Co. Wicklow
– Noel Hanna from Co. Down
– Vivian Rigney from Co. Dublin
– Bill Hanlon from Co. Wexford
– Mary Scannell from Co. Kerry
If you have any new information or wish to correct any existing information, please feel free to contact me as I am always excited to receive new stats and more accurate inputs.
–  World record for fastest Seven Summits challenge (156 days) was briefly held by Ian McKeever in 2009.
–  First person to complete the Seven Summits twice, from each side of Everest, was Pat Falvey (1997 & 2005).
–  First person in the world to completed the Seven Summits including descent to sea level was Noel Hanna.
–  The youngest Irish person to complete the Seven Summits was Dr. Clare O'Leary at age 34 in 2005.
–  In recent years, as peaks become more easily accessible, further new records are appearing and being broken.
Seven Summits
– Kosciuszko vs Carstensz
The controversy over two lists (such as it is) arose after Dick Bass first attempted to complete the highest peaks in the early 1980's, using the widely recognised definition of the 7 geographic continents. This included Australia whose highest peak is the modest Kosciuszko. In response, Reinhold Messner claimed that Carstensz in Papua New Guinea (a larger and more technical peak) should be the highest for 'Oceania' rather than Kosciuszko for 'Australia'. His claim was based on inclusion of all continental shelves too, however even that arbitrary extension would not have paired Carstensz to Australia.
There are may debates about what constitutes a continent – Oceania is in fact a region, as is Australasia. Defining it by tectonic plates is imprecise too because there are more than 7 plates globally. Indeed the debate could widen on that point to why Europe is considered a continent at all as it doesn't sit on a different tectonic plat to Asia and is not one continuous land mass surrounded by water (it is a shared landmass with Asia as Eurasia). Hence Elbrus should not be on the list at all if tectonics are the measure. And on and on the debate goes. In some regions of the world, the education system teaches 7 continents, in others 6 continents (Eurasia) and in some 5 continents (Antarctica not considered as no human habitation), hence the opinions are many & varied.
But on the Seven Summits challenge itself, it is clear that the existence of Carstensz on the Messner List is more to do with a view on the required difficulty that a continental highest 'deserves', rather than a measure of what actually is the highest or not. This author reads the Seven Summits as being the highest in N America, S America, Europe, Africa, Asia, Australia and Antarctica, hence Kosciuszko (irrespective of its lack of technicality) is one of the Seven Summits.