Everest 2022
– The Irish Climbers
The route to the summit is now open, the first Sherpa summits of the season have taken place, and most Everest expeditions are well into or have completed their rotations on Everest, where teams gain crucial adaptation on the high mountain at camps 1, 2 and 3 in advance of summit pushes starting this week. The rotational approach enable the body to adapt to the altitude demands of Camp 1, Camp 2 and Camp 3, so that when the summit window opens up, climbers are able to take advantage and push on progressively through the camps and onto the summit.
A reminder that the 6 Irish climbers attempting Everest this season are:
– Robert Smith from Tyrone (living in Scotland)
– Miko Keane from Galway
– James McManus from Tipperary (living in Dublin)
– Diarmuid Morrissey from Athlone (living in Portugal)
– Jonathan Duke Ruane from Sligo
– Michéal Brogan from Tyrone (living in Mullingar)
Everest has seen 10,656 successful ascents by more than 6000 climbers since the first ascent by Edmund Hillary and Sherpa Tenzing Norgay in 1953. From an Irish perspective, Everest has been climbed 71 times by 55 Irish climbers (9 women, 46 men) since the first Irish ascent by Dawson Stelfox in 1993, with a total of 135 Irish attempts to climb the mountain over the years. Full details on all of the Irish summits and attempts can be found here.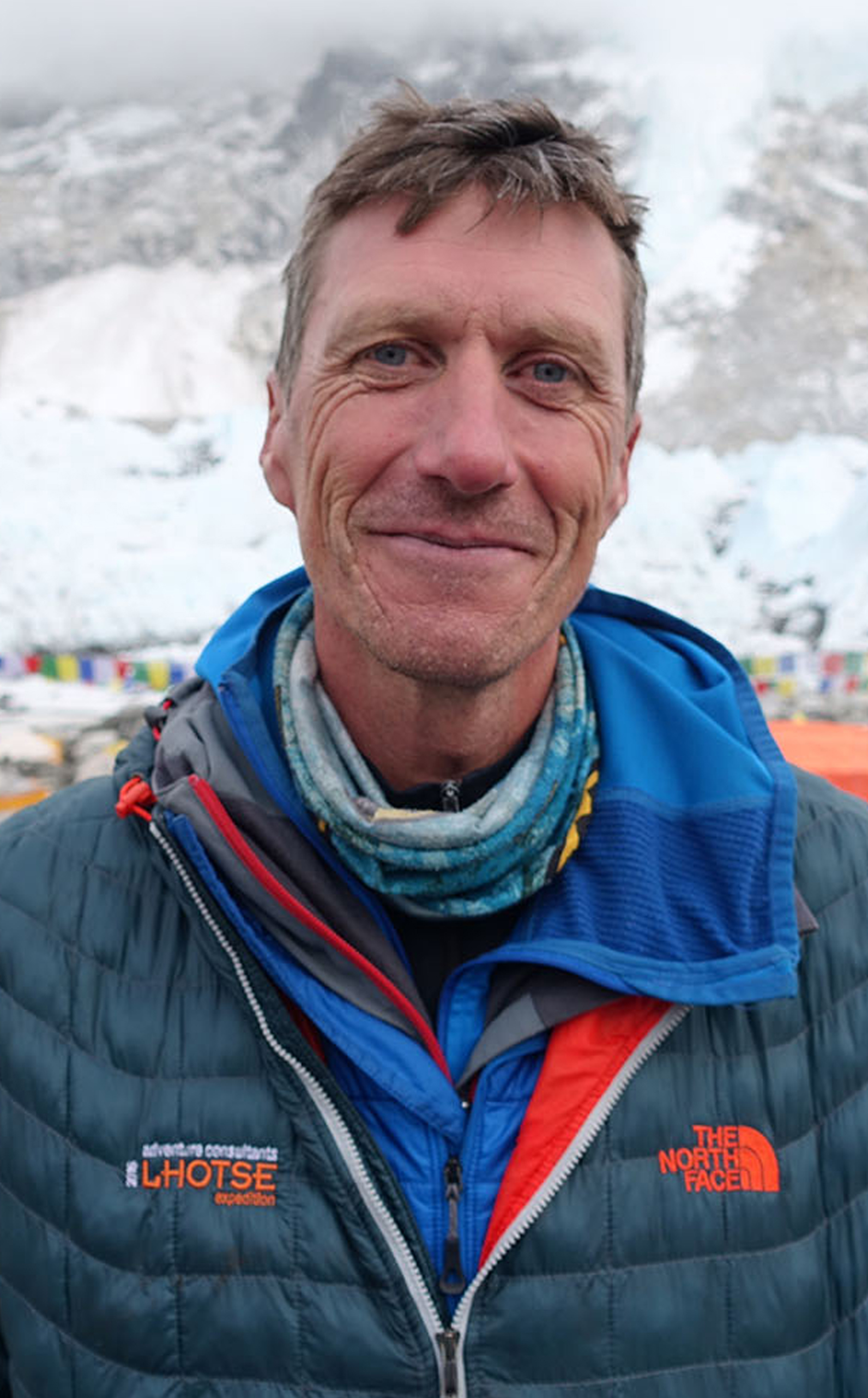 Here is the current status of the six Irish climbers on Everest this Spring:
Robert Smith is a guide with the Madison Mountaineering expedition team. The team has completed two rotations and are resting at Everest Base Camp in preparation for their summit push in coming days, weather permitting. The team has already spent time sleeping at Camp 1 and Camp 2 and has climbed to and touched Camp 3 (7300m) on the Lhotse face, thus enabling sufficiently adaptation to deal with the altitude demands of the forthcoming summit push. We should expect a summit push this coming week.
Jonathan Duke Ruane is a client in the Arnold Coster expedition team within Seven Summit Treks (SST). He has completed his one big rotation for the trip, which involved days spent sleeping at Camp 1 and Camp 2 and a climb to touch Camp 3 on the Lhotse Face (7300m). Jonathan and the team are now back at Everest Base Camp and resting ahead of their summit push, which may well be this coming week, weather depending. He posted a very interesting and honest snippet on the experience of climbing to Camp 3… "The big challenge between C2 and C3 is the Lhotse Face – an ice wall with gradients between 40% and 80%. Because of the type of ice, it is difficult to climb, feet placements are like glass. Without the rope the Sherpas have fixed, I wouldn't be able to climb it. Fixed ropes enable you to use your upper body strength to climb and not just rely on feet. They also make it safe for when you would otherwise fall. The other challenge is the heat. All these videos were taken the same day. In the early ones you can see me wearing my green down suit (highly insulated) and have several layers underneath. Once the temperatures rise, the Lhotse Face is like an oven. In the later videos (just hours later) I have just a very light top top protect my skin. The reason the videos look crazy white is because of the amount of reflected light from every angle".
Michéal Brogan is originally from Tyrone but living in Mullingar. He is a client with the Summit Climb expedition team led by Dan Mazur. The team has completed their rotation up to Camp 1 and Camp 2 where they stayed and slept before heading on to Camp 3 before turning around and heading back to EBC. The team has now helicoptered down to Namche to avail of some creature comforts and some of that nice thick air before they head back to EBC shortly to plan for their summit push. It is not clear if Michéal is still within the team at this point as he is keeping a low profile generally.
James McManus is attempting to climb Everest without any supplementary oxygen and is guided by Sherpa Tsering Lama from the Nepal Pyramids expedition team who is attempting his second summit of Everest (link). James and his guide have completed their first rotation from EBC to Camp 2 to EBC in a single day (no mean feat). They are now on their second rotation which has included a night sleeping at Camp 2 and was planned to include reaching Camp 3 today, but James had to stop 500m below the camp at 6800m due to exhaustion. They are currently en-route back to EBC and will rest and prepare for their third rotation later this week, which in theory plans to take in Camps 2, 3 and 4 which is slightly unorthodox since most teams would not typically go to Camp 4 on a rotation. Whether they do so or decide instead to opt for more sleep time at Camp 3 instead of going up to Camp 4 on that final rotation, is yet to be seen. The jump from 7000m to 8000m is exponential in almost every regard, and moreso with no supplementary oxygen.
Miko Keane was with the Ascent Himalayas team and recently ended his expedition and is back home.
Diarmuid Morrissey was with the Furtenbach Adventures team and recently ended his expedition.
For Miko and Diarmuid, both of whom were back on Everest for the second time, the decision to turn back will not have been an easy one, and they will likely have battled with all the pros and cons before making it. However listening to your body and knowing yourself at altitude is a vital skill on the high mountain and I am certain that both made a wise and prudent (albeit difficult) decision.
Safe travels to all 4 remaining Irish climbers as they prepare for the closing phase of their Everest adventure.
We are approaching the summit phase of the Everest Spring season. Teams are concluding rotations and preparing for their summit push over the next 1-2 weeks. The summit window typically occurs in mid to late May and is dictated by the temporary movement of the subtropical jetstream away from the top of the mountain to enable climbers to reach the top. The summit window can be as narrow as 48 hours for the entire season or as wide as a few weeks, and there can be one or multiple windows in any season. Some years had narrow weather windows leading to long lines forming on the mountain as hundreds of climbers positioned themselves to take advantage of it and not miss out on a summit attempt (remember the 2012 and 2019 lines). Other seasons enjoy long summit windows where a great many can summit without much in the way of crowding and queues. In addition, cyclones and other weather systems from the Bay of Bengal can play a role as was the case last season when two different cyclones played havoc with some climbers plans to reach the top. This month a cyclone called Asani is brewing in the Bay of Bengal (link) which could reach the Himalayas and have a big impact on summit plans. Some teams will want to take advantage of the current clear conditions on top and will begin their summit push this week, so we can expect summits from early this week onward. Others will bank on a later window as their preparation is not yet complete. Those expedition teams who have invested well in weather intelligence and are on top of the details and have deep knowledge of the dynamics of weather on the mountain, will gain the most advantage. But weather is weather and in the end climbers do what it dictates.
If we examine the history of Everest summits for the 10,656 successful ascents from 1953 to 2021, we see that 90% occurred between May 10th and 26th while 50% occurred between 19th and 23rd May. Looking specifically at the 71 Irish summits since the first Irish ascent in 1993 we find that 90% occurred between 16th and 26th May, while the 21st and 23rd of May have statistically been the most popular summit dates. Summits prior to May 10th are few and far between, as are summits after 26th May. Whatever happens, and no matter how selective climbers might wish to be (or think they can be), it will be mother nature dictating the pace and pattern of summits. Lets hope the current good conditions continue and the cyclones literally remain at bay. 
(I acknowledge the Himalayan Database for the raw data used for the 'All Summits' graph below)
The author: Paul Devaney is a native of Longford, is co-founder of the Irish Seven Summits challenge, and Director of Seven Summits Solutions Limited which provides Aerospace & Digital Design services. Paul is an amateur mountaineer and has completed 6 of the 7 Summits and attempted Everest in 2014 and 2015. In both seasons his expedition was halted due to major incidents (Avalanche in 2014, Earthquake in 2015). Paul has climbed and trained in the Alps and completed climbs from Alaska to Antarctica and from Jordan to Ecuador. He lives in London with his wife Rima and has been documenting and researching the Irish on Everest for the past nine seasons.