Everest 2022
– The Irish Climbers
Everest expeditions are approaching the half-way mark now, and the adaptation phase which prepares the body for altitude equivalent to Camp 1 on the upper mountain, is now complete. Teams will have spent the past three weeks trekking slowly towards EBC and climbing various medium and large peaks along the way, to arrive into EBC fit and ready for the second phase of their journey – the rotations up the high mountain. These series of rotations enable the body to adapt slowly to the altitude deamands of Camp 1, Camp 2, Camp 3 and Camp 4 so that when the summit weather window opens up in mid/late May, climbers are able to push on progressively to the top.
A reminder that the 6 Irish climbers attempting Everest this season are:
– Robert Smith from Tyrone
– Miko Keane from Galway
– James McManus from Tipperary
– Diarmuid Morrissey from Athlone
– Jonathan Duke Ruane from Sligo
– Michéal Brogan from Tyrone
Everest has seen 10,656 successful ascents by more than 6000 climbers since the first ascent by Edmund Hillary and Sherpa Tenzing Norgay in 1953. From an Irish perspective, Everest has been climbed 71 times by 55 Irish climbers (9 women, 46 men) since the first Irish ascent by Dawson Stelfox in 1993, with a total of 135 Irish attempts to climb the mountain over the years. Full details on all of the Irish summits and attempts can be found here.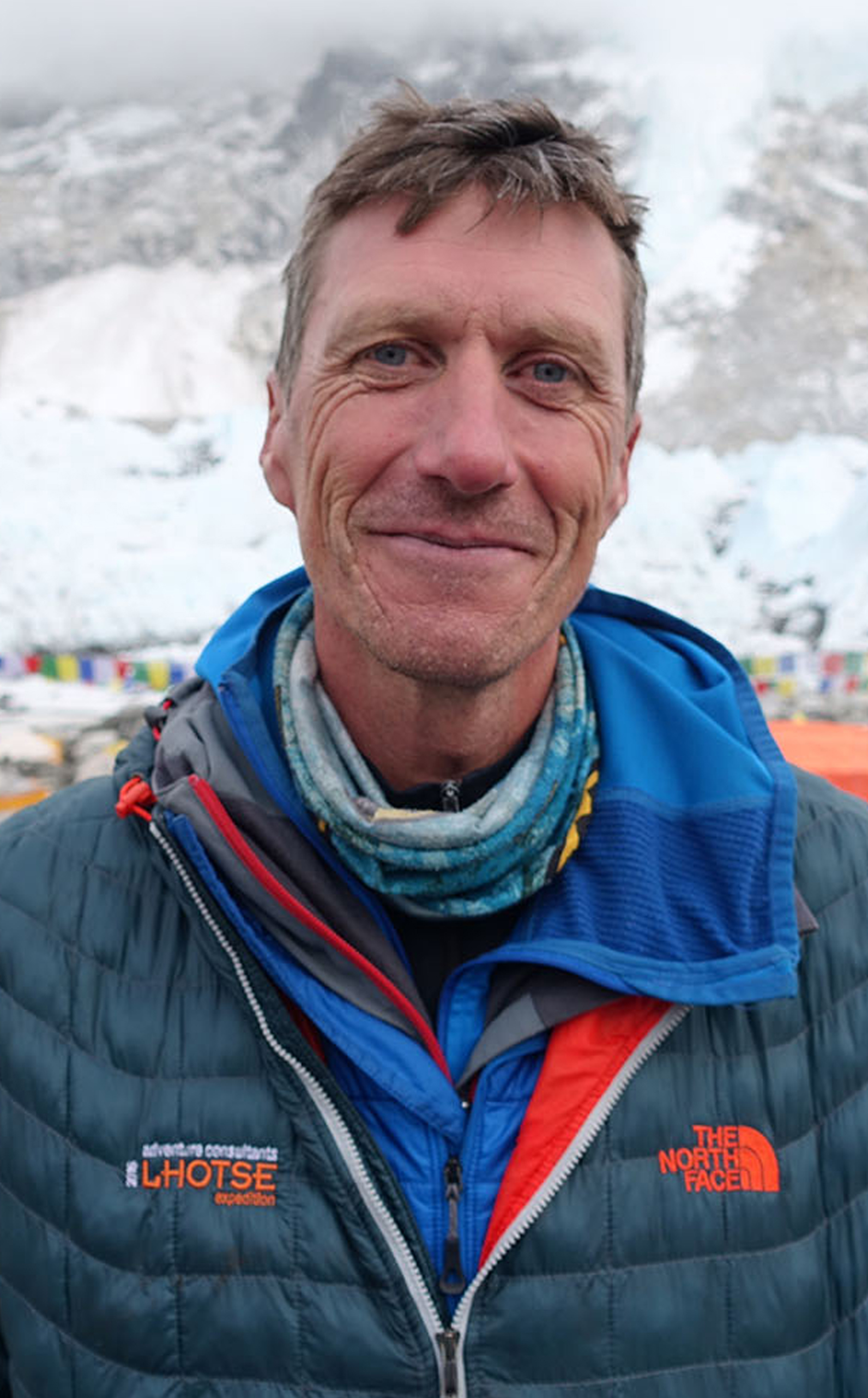 Here is the current status of the six Irish climbers on Everest this Spring:
Robert Smith is a guide with the Madison Mountaineering expedition team. They completed their adaptation phase a week ago (which included climbing Lobuche East at 6,119m/20,075ft), and are already on their first rotation up the mountain. Having crossed the icefall and spent two nights sleeping at Camp 1 (6,050m/19,849ft), the team has ascended to their advanced base camp at Camp 2 (6,500m/21,325ft) where they will spend the night and hike above Camp 2 next day (to gain extra adaptation) before making the journey back to Everest Base Camp, to recover ahead of their second rotation.
Miko Keane is a client in the Ascent Himalayas expedition team. Ascent Himalayas team has completed their adaptation phase which for some of the rest of Miko's team included Island Peak (6,160m/20,210ft). The AH team are in Everest Base Camp since 22nd April and will be resting and preparing for their first rotation up the mountain in the coming week. The Island Peak climb enables climbers to be pre-adapted to Camp 1 prior to their first rotation. I don't have a specific update on Miko but will try to include in a later edition.
Diarmuid Morrissey is a client in the Furtenbach Adventures expedition team (in their 'Classic' sub-team). The team has completed the adaptation phase of the expedition which included climbing Lobuche East (6,119m/20,075ft) and arrived into Everest Base Camp on 19th April. They will be preparing to head through the icefall to Camp 1 on their first rotation any time now.
Jonathan Duke Ruane is a client in the Arnold Coster expedition team within Seven Summit Treks (SST). The team arrived into Everest Base Camp earlier this week, and thereafter completed their climb of Lobuche East (6,119m/20,075ft) which completes the adaptation phase of their journey and prepare them for their first rotation next week. Jonathan is accompanied for the initial phase of the expedition by his partner Grace O'Flanagan who is a former international hockey player and World Cup silver medalist no less, and has just completed Lobuche East – her first mountain over 20,000ft.
Michéal Brogan is originally from Tyrone but living in Mullingar for some time now. He is a client with the Summit Climb expedition team led by Dan Mazur. The team arrived into Everest Base Camp on 19th April, and are now fully adapted and ready to head up to Camp 1 (and perhaps further) on their first rotation. Michael is keeping a low profile, hence details on progress are difficult to ascertain or confirm.
James McManus is being guided on Everest this season by Sherpa Tsering Lama from the Nepal Pyramids expedition team. Tsering from Taplejung in Kanchenjunga region, climbed Everest for the first time last Spring (link). James is attempting to become the first Irish to climb Everest without the use of supplementary oxygen. The duo have based themselves in Pheriche rather than EBC and will be using the camps and infrastructure of Seven Summit Treks at EBC and up the mountain. James and Tsering have completed their initial adaptation phase by climbing both Loboche East and Island Peak (typically you climb one of the two in the adaptation phase, but they have done both, which will likely have exhausted them a little but given greater adaptation). They are now resting and preparing for their first rotation up the mountain on 27th April. This is the most publicised and intriguing of the Irish climbs on Everest this season given the 'No Os' element, so worthwhile diving into a bit more detail on their plans.
James and Tsering have planned three rotations starting 27th April:
R1: EBC to C2 to EBC = 1 day
R2: EBC to C2 (sleep) to C3 to EBC = 2 days
R3: EBC to C2 (sleep) to C4 to C2 (Sleep) to EBC = 3 days
They will rest for a number of days between each rotation, dropping down the five hours or so from EBC to Pheriche each time to rest and recover there. Going back down the valley between rotations has become a common feature of Everest expeditions, but typically only for a couple of days after the last rotation and (recently) more frequently by helicopter, to conserve energy. James and Tsering will be dropping down to Pheriche on foot between ALL rotations to then stay there until next rotation, which is not something I have seen before. The stated rationale behind this choice is to maximise recovery and minimise weight loss. Once all three rotations are done, they will then prepare for the summit push (which is normally EBC to Camp 2 to Camp 3 to Camp 4 to Summit to Camp 4 to Camp 2 to EBC), whenever the weather window opens in mid to late May. The summit schedule is dictated entirely by the jetstream.
Objectively, this is a very demanding rotation schedule relative to what you would typically see on Everest, and more so for someone attempting a first 8000m climb without supplementary oxygen. Typically climbers would sleep at Camp 1 during that first rotation as it is often an extremely exhausting trip through the icefall that first time. It wouldn't surprise me if James and Tsering update their plans to add a sleep at Camp 1 on the first rotation, and add a sleep at Camp 3 on the second rotation, and replace Camp 4 with Camp 3 and sleep there on the third rotation. But everyone is entitled to design a different approach best suited to their own needs and capabilities, once it doesn't compromise their own safety or the safety of anyone around them.
Wishing safe travels to all 6 climbers as they embark on rotations up the mountain.
Everest
– Expedition Cost
According to the Exped Review website (author Daniel Dawson) in November 2021 (link), the average cost of an Everest expedition is $54,972 while the median price is $46,995. The six Irish climbers this season are spread across 6 different expedition teams. Robert Smith is working as a guide, so the pricing below doesn't apply to him, but it gives you an indicative view of what it costs to be on expedition in those teams:
Full Service Package Cost (USD):
Madison Mountaineering: $75,000

Furtenbach Adventures: $66,000 (€60,900)

Ascent Himalayas: $45,000

Arnold Coster: $44,500

Summit Climb: $38,450

Nepal Pyramids: $36,000
Prices have increased a bit since I first attempted Everest back in 2014. Back then I paid $45,000 for the expedition, which was pretty much the average cost at the time. Prices will vary depending on what additional extras you want or need (more oxygen costs more money, western guides cost more than Nepali guides, more luxury at EBC costs more and so on). You can pay into six figures for certain VIP services or one-on-one guided trips with celebrity guides, and on the other end of the scale there are a range of low-cost operators where you pay for minimum camp services but are pretty much on your own otherwise, or you pay for a full service package but with limited summit experience in that expedition team.
The key thing to consider when making a decision on which guide/company is right for you, is whether you have enough safety built into that selection. This includes the ability of your guide or expedition leadership to have latest intel on weather, and to influence team movements on the upper mountain to avoid crowding. It is also vital to consider the overall experience of your guide (how many summits, guiding or carrying and so on), and generally whether you feel that the choice nicely supplements your own experience. The reality is that some Everest clients need more assistance than others, while some arrive extremely self sufficient and capable (many now arrive with little or no experience above 8000m, but with significant expedition pedigree and well able to look after themselves within a safe and robust guided structure). The other reality is that some Sherpa guides are massively experienced and capable, while others are extraordinary inexperienced and are culturally incapable of saying no to clients or spinning them around if they are not fit to continue. This scenario can potentially place the lives of both the Sherpa guide and clients in danger and lead to disaster. So choose wisely.
The unknown for many clients is how the body will react above 8000m, and to offset that risk (other than climbing other 8000m peaks first) it is advisable to invest in a guide/company with the ability to give you quality information along the way so you can make informed decisions, and more importantly to spot when you can't make informed decisions and spin you around. Not everyone needs the full service expedition option, but some absolutely do for safety reasons (safety of themselves and those around them). Finally, it is also worth ensuring that the company you are using is compensating their employees well, and is making a positive contribution to the region and the Everest enterprise in general. Ethics and honesty matter more than ever right now, and that is no less true on the mountain. There is something of a meritocracy at work on Everest whereby the most capable and robust expedition companies tend to attract the most qualified and capable Sherpa guides, and part of their ability to keep those guides rests in how well they are paying and treating them. Hence the most credible expedition companies tend to be the ones paying and treating their workers the best. When I first attempted Everest in 2014 with Ascent Himalayas, their expedition team consisted of a team of Sherpa guides with 54 combined Everest summits between them! They have four clients this season and I recently asked the company owner Mingma Tsiri Sherpa for an update on how many combined Everest summits there are within his 2022 Sherpa group. The answer is 53 summits across 5 Sherpa guides, plus his own 20 summits too.
Mingma Tsiri Sherpa (Owner) = 20 Summits
Pasang Tenzing Sherpa = 14 Summits
Danurbu Sherpa = 13 Summits
Pasang Yulu Sherpa = 10 Summits
Dawa Tashi Sherpa = 9 Summits
Sange Sherpa = 7 Summits
Having that combined level of expertise around you will improve your safety significantly and having that specific one-on-one guided experience with you on the upper mountain is significant. So ask those key questions, and unless you are an expert on 8000m peaks, make sure that you are surrounded by lots of experience and within an expedition (or with a sufficiently experienced guide) armed to deal with the complex logistics of getting you safely around the hundreds heading for the top, and through that narrow weather window and back in one piece!
The author: Paul Devaney is a native of Longford, is co-founder of the Irish Seven Summits challenge, and Director of Seven Summits Solutions Limited which provides Aerospace & Digital Design services. Paul is an amateur mountaineer and has completed 6 of the 7 Summits and attempted Everest in 2014 and 2015. In both seasons his expedition was halted due to major incidents (Avalanche in 2014, Earthquake in 2015). Paul has climbed and trained in the Alps and completed climbs from Alaska to Antarctica and from Jordan to Ecuador. He lives in London with his wife Rima and has been documenting and researching the Irish on Everest for the past nine seasons.