Everest 2021
– The Irish Story
It's mid April and the Spring season on Everest is well underway. Believe it or not there is an Everest season this year, and believe it or not there are Irish climbers on the mountain this year… five in total (3 from RoI, 2 from NI) all climbing on the Nepal side of the mountain. The Tibet side of the mountain is closed to foreign climbers by the Chinese government, so expect no summits from that side unless Chinese teams make an attempt (as happened last year). Hence the real action will be on the Nepal side this year. Nepal announced some months ago that their peaks would be open for climbing this season, and in early April the Nepalese government announced that quarantine post arrival would be abolished.
Here are the five Irish climbers attempting Everest this season.
– Noel Hanna (54) from Down, living in South Africa (Guiding a friend within Seven Summits Treks)
– Robert Smith (50) from Tyrone, living in Scotland (Guiding for Madison Mountaineering)
– Damien Browne (40) from Galway, based in Brisbane (Client with Climbing The Seven Summits)
– Ronan Murphy (40) from Dublin, living in London (Client with Madison Mountaineering)
– Diarmuid Morrissey (55) from Athlone, living in Portugal (Client with Mountain Trip)
None of the Irish climbers on Everest this season live in Ireland and none traveled to Nepal from Ireland. 
Everest had been climbed over 10,200 times since 1953, and has been climbed 68 times by 54 different Irish climbers since the first successful Irish ascent in 1993. In total, there has been 130 Irish attempts to climb Everest by 91 different Irish climbers. See a full list of all Irish attempts here.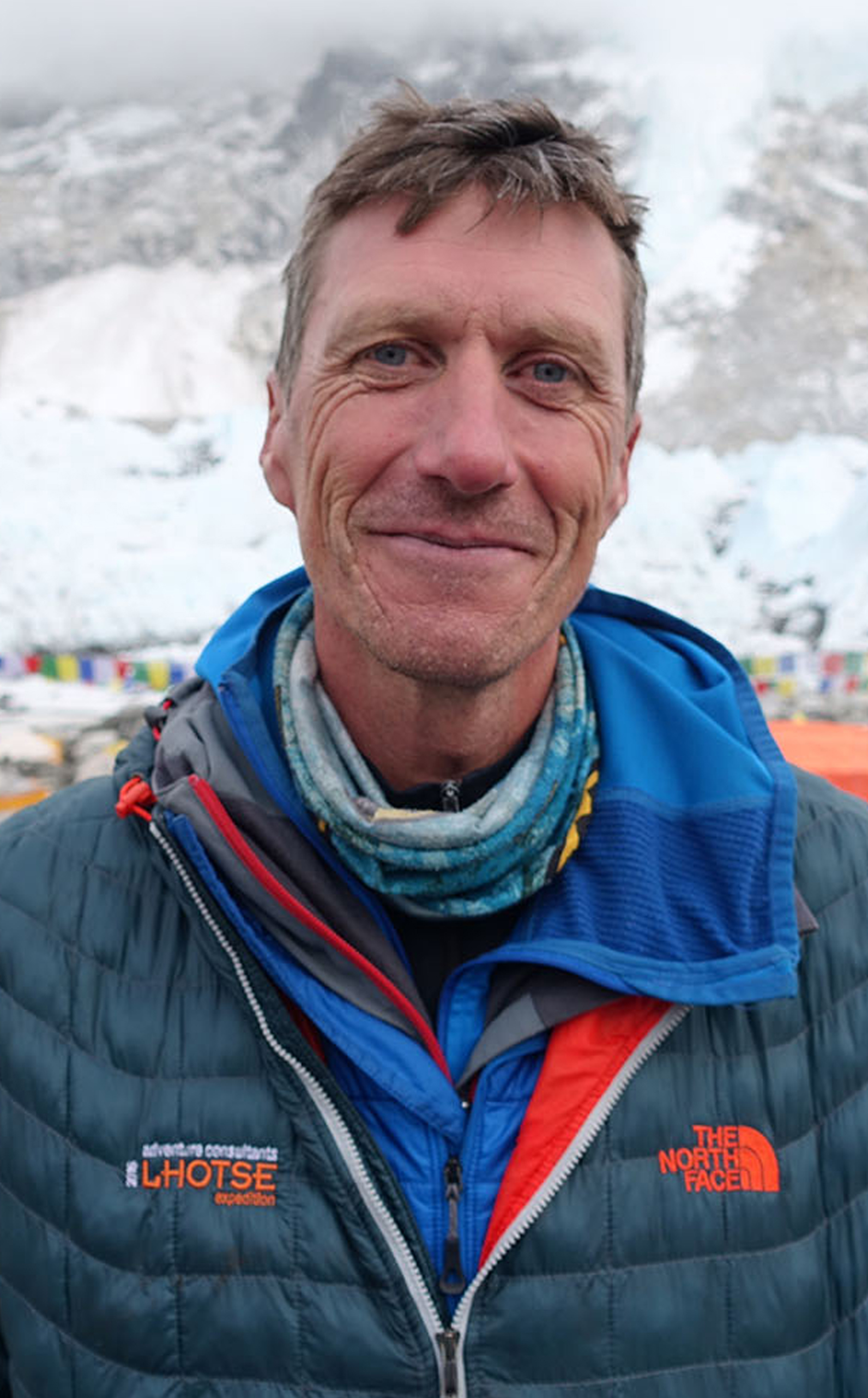 Noel Hanna needs very little introduction. Noel is originally from Dromara in Co. Down, living in South Africa with his wife and fellow mountaineer Lynne. He has completed the Seven Summits and is going for an incredible 10th summit of Everest this season. In 2018 Noel reached the summit of K2 and in 2020 attempted to become the first Irish climber to complete a Winter ascent of K2 (no Irish climber has successfully completed a winter ascent of any 8000m peak thus far), getting extremely close to the top before conditions required a gallant and wise retreat. In 2017 Noel completed an historic 1st ascent of Burke Khang, one of his proudest achievements. Noel and Lynne have climbed Everest twice together and completed the first Irish ascent of an 8000m peak without supplementary oxygen, on Manaslu in September 2019. Noel is typically found guiding on Everest, however this year he is climbing with a friend from South Africa, within the Seven Summits Treks expedition.
Robert Smith is originally from Tyrone (between Sion Mills and Strabane) and is a professional mountain guide living in Fort William in Scotland. He has the unique distinction of having climbed K2 and Everest in the same season in 2018 and climbing Everest and Lhotse within the same 24 hour period in 2019. He has climbed five of the 8000m peaks (Everest, K2, Manaslu, Cho Oyu and Lhotse) – the most of any Irish climber, and has climbed Everest five times. Robert is an extremely accomplished guide with significant experience including 8000m peaks, Snow Leopards and extensive Antarctic climbing and polar expeditions to name but a few. He is guiding for Madison Mountaineering this season, and the team are extremely lucky to have someone of Robs pedigree in their midst.
Damian Browne is a former professional rugby player from Galway. After a sixteen year career on the rugby pitches of The Celtic league, English Premiership and French Top 14 Championship, injury forced him out of the game and into adventure, initially via expedition into the high altitude Pamir mountains in Afghanistan and then to Kilimanjaro, Mont Blanc and Gran Paradiso. In 2016 he completed the Marathon des Sables, also known as 'The Toughest Footrace on Earth' and followed that up with an incredible challenge to row solo across the Atlantic Ocean which he achieved after a grueling 63 days, 6 hours and 25 minute crossing. Damian is attempting to complete the 7 Summits challenge, and has completed 5 of the 7 peaks, with Vinson and Everest remaining. He is climbing on Everest with Mike Hamills 'Climbing The Seven Summits' expedition team, and has recently arrived in Nepal (9th April) from Brisbane Australia where his daughter Elodie was born on April 4th.
Ronan Murphy is a Dubliner, living and working in London. His love for the mountains began after he found himself out of work due to the global financial crisis of 2008, so he set his sights on Latin America where he ended up staying for a year and getting hooked on mountaineering. He has climbed peaks in Peru and Bolivia and has climbed Island Peak and Lobuche East in Nepal. He was introduced to Madison Mountaineering by the renowned English climber Kenton Cool, and his preparation for Everest involved heading to Ecuador in February of this year for high altitude training, including climbing Chimborazo, the highest peak in Ecuador. Ronan is raising funds for The Himalayan Trust (Link here).
Diarmuid Morrissey is a Dublin-born Athlone man. The father of four boys currently lives in Portugal. Diarmuid has climbed Kilimanjaro, Elbrus, Aconcagua, Kosciuszko, Vinson Massif, Island Peak and Mera Peak and is attempting to complete the 7 Summits with Everest hopefully his 6th peak in that adventure. Diarmuid is climbing with the American company 'Mountain Trip', who I myself climbed with during my Denali climb in 2010, and who are an excellent outfit. Diarmuid and the Mountain Trip team took a chopper from Kathmandu to Namche and started their journey from there. I will post an interview with Diarmuid shortly to provide more insights into the man behind the mission.
Finally the other Irish links this season in Nepal are (1) Ian Taylor Trekking (Ian is from Kildare, based in USA) who has international clients in the Khumbu climbing Island Peak, Mera Peak and Lobuche this season, and (2) World Sherpa (Cian O'Brolchain from Dublin, now living in Australia, is Director) is running an expedition in Nepal at the moment, but not with any international clients due to travel restrictions.
For those who know the Nepalese 'Ascent Himalayas' expedition company, and its owner Mingma Tsiri Sherpa, Mingma is back on Everest this year and is going for that magic 20th summit of Everest. I wish him the very best of luck in reaching that incredible milestone. Mingma would normally have an Irish or two in his expeditions, however there are none this year as climbers have cancelled due to travel restrictions.
I will hopefully have updates on the 5 Irish climbers as the season progresses, including interviews with Diarmuid and Ronan. But for now, I wish all of them the best of good fortune and safe climbing as they adapt and prepare for the challenge ahead.
(PS – If you know of other Irish connections please let me know). 
Everest 2021
– Season So Far
According to Nepals Ministry of Tourism summary for 16th April 2021, climbing permits have been issued to 71 different teams, covering 626 different climbers for climbing peaks in the country. Everest accounts for 36 teams thus far (some are still arriving), with 338 clients now in-country to climb Everest this season, some trekking through the Khumbu valley, some acclimatizing on various peaks around Everest and some at Everest Base Camp resting and preparing for their first rotation through the icefall to Camp 1.
The period up until 20th April is typically used for acclimatizing and preparation. The long route to Everest Base Camp is punctuated with climbs of 6000m peaks to prepare the body for the altitude demands of Camp 1 on that first rotation through the icefall in late April. The upper mountain is climbed in stages, all of which involve a return to base camp for recovery before heading off again a few days later to push more confidently and higher and enable the body to adapt better each time to higher altitudes up to Camp 3. These rotations are done with ever-increasing height 3-4 times and always returning to base camp, until a weather window appears around mid May to enable climbers to go for the summit. Right now climbers will be focusing on their adaptation and getting ready for that first crossing of the icefall and its iconic ladders, and will be adjusting to life at base camp during this 50-60 day expedition.
The quantity of climbers on Everest this year is not as large as recent years (excluding 2020 when the mountain was effectively closed), but it is objectively large considering travel constraints and risks around Covid-19. The numbers for Lhotse this year are also very large.
Everest 2021
– How Did They Get There?
When I mention Everest 2021 to anyone nowadays, the one question that comes back time and again is 'how are people traveling'? That is not an unreasonable or unfair question to ask in these Covid times, and the answer in some cases is complex. I am writing this blog in London where we are not allowed to travel overseas (with exception of Ireland) except for essential purposes, indeed until April 12th we are under a 'Stay Home' order. In Ireland folks have only recently been allowed travel beyond 5km of their own home, and overseas travel is also not permitted there. It is worth noting that all of the Irish climbers on Everest this year live outside of Ireland. Travel rules are different for different jurisdictions, and I don't pretend to know the details of what applies for Australia or South Africa or Portugal (though I gather that Portugal and South Africa do allow international travel which helps explain how those climbers reached Nepal, though evidence seems to show Australia does not allow for non-essential travel). I can comment with some authority on the situation in England and Ireland though, as like many of you, I have lived it for a while now.
---
UK – Covid Travel Rules:
In UK, international travel is banned (with exception of Ireland) unless for essential purposes. It has been that way all year and in March the rules became enshrined in law in England enabling the police to levy a £5000 fine for anyone trying to travel overseas for non-essential reasons. The ban on international travel from UK is not expected to be lifted until May 17th when 'Step 3' of the four steps out of lockdown kicks in.
According to the law on this, "The Regulations impose restrictions on leaving the United Kingdom without a reasonable excuse (regulation 8)." The law says no one may "leave England to travel to a destination outside the United Kingdom, or travel to, or be present at, an embarkation point for the purpose of travelling from there to a destination outside the United Kingdom" without a reasonable excuse. Those reasonable excuses are…
– Where it's necessary for work
– For study outside the UK
– For volunteer or charity work
– Elite sportspeople – for training or competitions
– To fulfill a legal obligation
– To seek medical assistance or appointments
– For the purpose of moving house or viewing a house to buy or rent
– To be at the birth of a child at the mum's request
– To visit someone in a hospice or care home – but only close friends and family
– To visit someone who is dying – close friends and family only
– To attend a funeral
– For childcare purposes
– You are getting married outside the UK
– Contact with siblings for children in care
– If you don't live in the UK permanently and are going home
Anyone who qualifies to travel under one/any of the criteria above, will have to fill out a Coronavirus Declaration Form stating their permitted reason to leave the country, and can face a £200 fine for not having the right paperwork. The rules on international travel from Scotland, Wales and Northern Ireland are similarly restrictive and require an essential reason to enable travel.
UK is doing fantastically on vaccination, and has just started vaccinating the 40-50 age group from this week. The UK has a 3 month gap between jabs, unlike many other places where it is 3 weeks between jabs. If you are lucky and in the right place at the right time, some medical facilities are doing walk-ins to enable use of supply set for that day but where people have not arrived for their appointed slots. If you are heading to Nepal to climb something in March/April, chances are you either have 1 jab or none. There is very little chance that anyone flying from UK to climb mountains is fully vaccinated.
The two categories most likely to enable essential travel from UK are Work or Elite Sports. Lets examine both.
Elite sports
It is a reasonable excuse to travel abroad if you are an elite sportsperson, a coach of an elite sportsperson, or a parent of an under 18 elite sportsperson, and it is necessary for training or competition for you to leave the UK. Elite sportspeople in this context are defined as those whose professional career is the sport they are traveling to compete in or train for.
Recommended evidence: Correspondence on training or competition, invite to competition, letter or correspondence from sport governing body or other appropriate documentation.
Work
Travel for business or work purposes where it is not reasonably possible to complete that work within the UK. This includes but is not limited to essential work, in relation to critical national infrastructure including the national rail network, national security or diplomatic purposes.
Recommended evidence: employer's letter, professional ID card, diplomatic mission letter, or other appropriate documentation.
---
Republic of Ireland – Covid Travel Rules:
In Ireland, until very recently you could not travel beyond 5km of home unless for essential purposes, which has meant a long period of restrictive movement for a great many. That has recently been relaxed to enable travel within your own county or within 20km of your home. International travel from Ireland is not permitted unless for essential purposes. Ireland has recently hardened its stance on incoming passengers with a list of 58 'Red Zone' countries including some EU nations which are required to adhere to mandatory hotel quarantine on arrival.
According to the regulations in Ireland, you should only travel abroad if it is essential to do so. The following are "reasonable excuses" for travelling to a port or airport for the purposes of travelling abroad as set out in the Health Act 1947 (Section 31A – Temporary Restrictions) COVID-19) (No 10)(Amendment)(No 2) Regulations 2021:
– To go to college or school if you have to be there in person
– To go with a child or a vulnerable adult to school if they have to be there in person
– To work or travel related to your business
– To go to a medical or dental appointment, or to go to an appointment with someone you live with, or a vulnerable person
– To seek essential medical, health or dental services, or to accompany someone you live with, or a vulnerable person who needs essential treatment
– To care for a family member or for other vital family reasons
– To go to a funeral
– To meet a legal obligation (for example, to appear in court)
– To give access to a child to the other parent of the child, or to access a child that you have a right of access to
– To leave Ireland if you are not resident in Ireland
– Authorities may accept other reasonable excuses that are not on this list.
Ireland is ~6 weeks behind UK on vaccinations, not helped by the collapse of Q1 supply to EU by AstraZeneca (don't get me going on that one!). Ireland is still vaccinating the over 70's at the moment and moving through the population in descending age groups.
Anyone found breaching the rules by traveling for non-essential purposes will be fined €500 by the Gardai. It would appear that if you pay the fine, you are allowed to carry on with your travel. I don't think anyone has traveled from Ireland to Nepal this season, but for anyone doing so, I guess it practically involves budgeting a €500 fine payment on each side and being prepared to break the rules/law?
---
Conclusion
So travel from UK or Ireland to Nepal for work (guiding or expedition management for example) is permitted without any issue, but Nepal will require the usual Negative PCR on arrival. If you are an elite sportsperson, you can travel to Nepal from UK to compete or train. However it is very unlikely that 99% of clients on Everest fall into the Elite Sports category as the vast majority are not professional sportspeople. So if most people are not guides and if most people are not professional sportspeople, how are those travelling from UK to Nepal getting there? This question seems to only apply to one of the Irish climbers this season. Honest answer is I don't know how they are able to travel around the current ban, but an informed source has advised that some expedition companies may be writing letters for clients advising them that they are 'employed' by the expedition so that they qualify under the 'work' category. I cannot categorically say whether that is happening or not, but something is going on because I can easily find a handful of Everest clients on the hill right now who have traveled from locations with active travel bans in place.
Everest is an immense investment of people's time and hard earned money, and is not taken lightly by those who attempt it. I tried it twice and I am still living with the consequences of the sacrifices and decisions I made to get there, let alone the physical demands once you are there. So I greatly admire those who put themselves out there to try something so bold and risky. But we are in a strange time right now due to the pandemic, where we have been asked collectively to give up so much of what we took for granted, and for so long too, in order to ensure the safety and well-being of everyone else while this pandemic surges and spawns into variants across the globe (chased thankfully by a series of awesome vaccines). So it is not unreasonable in that context for people to ask 'how' and perhaps as the season unfolds those answers will become clearer and more understandable. Each climber from areas with travel bans must have wrestled with this themselves, but I suspect the wider class of 2021 is split between those who did wrestle with it and went out of their way personally to ensure their own safety and that of the locals in Nepal, and those whose primary goal was to find every avenue possible around rules which exist for the common good. Some of that may leave something of a bad taste when this is all done and dusted, especially in the context of families who couldn't attend weddings or funerals due to international travel bans which they took extremely seriously for the common good. One thing is for sure, the silence across the board on this topic is deafening!
On the Nepalese side, it is hard to understand the logic of or wisdom in doing away with mandatory quarantine on arrival. It looks as though all efforts are being made to bring as much tourism and permit revenue into the country as possible during this critical Everest season, which I completely understand from a socio-economic perspective, but in the context of the pandemic including risks posed by B117 or P2 variants (which would be a disaster if they became rampant in Kathmandu), the actions of the government seem perplexing and concerning in a country with little or no testing or track-and-trace. But what is done is done, so I will have my fingers crossed for a good outcome here. To the expedition teams and clients who played by the rules (both departure and arrival) and went over and above to protect the locals and their colleagues and teammates, well done and have a great expedition.
The author: Paul Devaney from Longford is co-founder of Irish Seven Summits and Director of Seven Summits Solutions which provides Aerospace & Digital Design services. Paul is an amateur mountaineer and has completed 6 of the 7 Summits and attempted Everest in 2014 and 2015. In both seasons his expedition was halted due to major incidents (Avalanche in 2014, Earthquake in 2015). Paul has climbed and trained in the Alps and completed expeditions from Alaska to Antarctica. He currently lives in London, England.