Everest 2022
– Irish Season Summary
This years Everest Spring season technically ends on May 29th when the SPCC (Sagarmatha Pollution Control Committee) stop maintaining the icefall, and the Sherpa group known as the 'Icefall Doctors' begin dismantling the route and ladders they installed in April to enable climbers to move more safely from EBC to Camp 1. Anyone climbing thereafter would need to make their own way through that dreaded maze of ice towers, which is not a task anyone other than experts would undertake lightly (or at all). In practical terms, the season is already over (much earlier than usual), and from an Irish perspective it ended yesterday. This season will be remembered for the prolonged window of perfect windless summit days which lasted for an incredible two weeks from the point when the ropes to the summit were first fixed on May 7th. This size of a weather window is rarely seen (though not altogether unprecedented as 2018 saw similar). Whereas 2012 and 2019 were defined by dreadful weather and a tiny weather window leading to ridiculous queues for the summit, most climbers in 2022 had no queues to contend with and some reported encountering nobody else for much of their summit push. In terms of fatalities, 3 people died on Everest this season (2 Sherpa, 1 Client).
There were 6 Irish on Everest this Spring and 2 made it to the summit.
– Jonathan Duke Ruane from Sligo (Summit!)
– Robert Smith from Tyrone (Summit!)
– James McManus from Tipperary (No Summit)
– Miko Keane from Galway (No Summit)
– Michéal Brogan from Tyrone (No Summit)
– Diarmuid Morrissey from Athlone (No Summit)
The US blogger Alan Arnette estimates that 562 people reached the summit from the Nepal side thus far this season. The Tibet side of the mountain was effectively closed by Chinese authorities due to ongoing 'Zero Covid' restrictions on that side of the hill. Those numbers mean that Everest has now seen around 11,200 successful ascents by circa 6500 climbers since the first ascent by Edmund Hillary and Sherpa Tenzing Norgay in 1953. From an Irish perspective, Everest has now been climbed 73 times by 56 Irish climbers (9 women, 47 men) since the first Irish ascent by Dawson Stelfox in 1993, with a total of 141 Irish attempts to climb the mountain over the years. Full details (updated to include available 2022 season data) on all of the Irish summits and attempts can be found here.
Jonathan Duke Ruane
(Summit)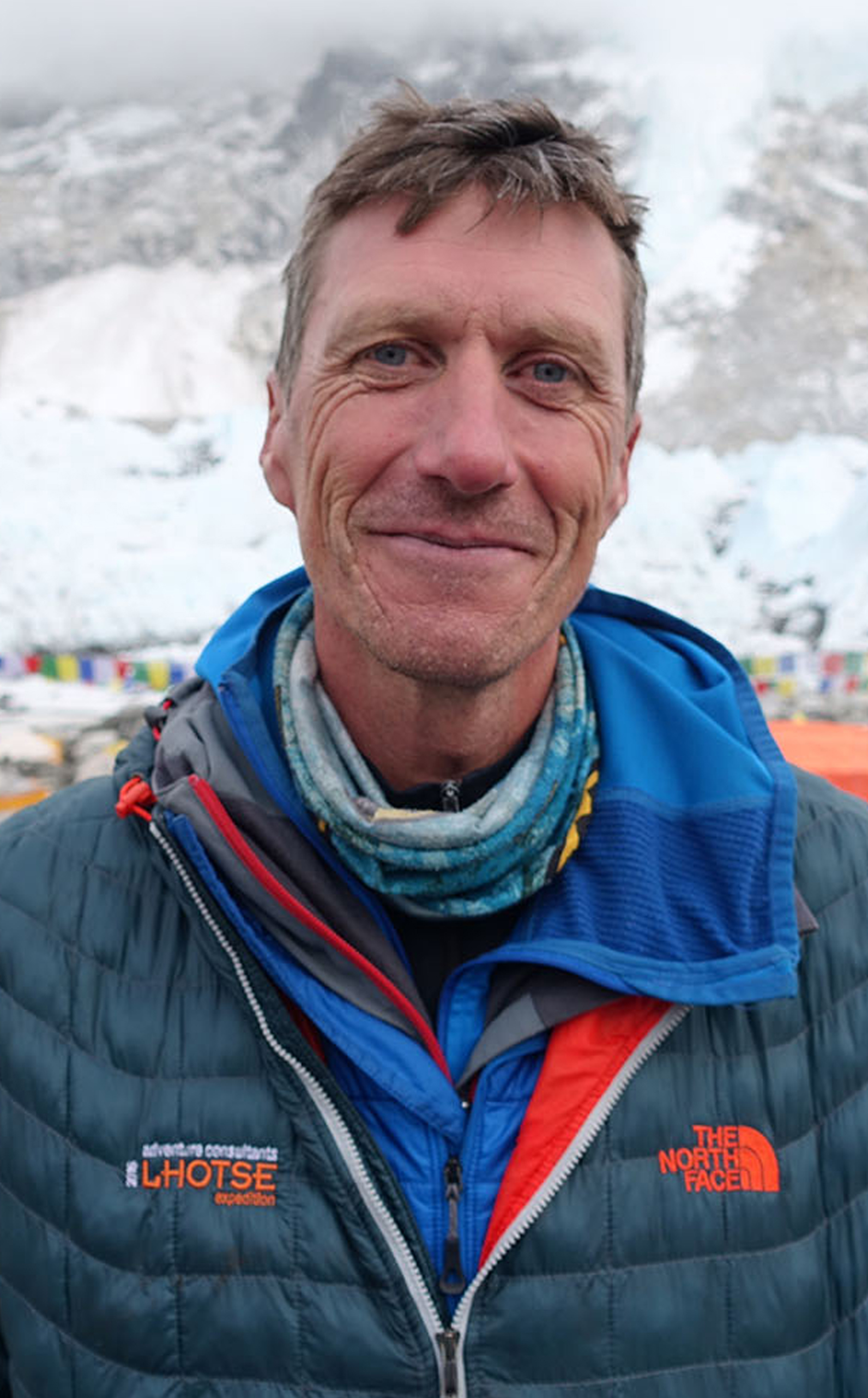 Robert Kelso Smith
(Summit)

James McManus
(No Summit)

Diarmuid Morrissey
(No Summit)

Michéal Brogan
(No Summit)

Three of this years Irish climbers were first timers on Everest, two were back for a second attempt and one was on his 7th ascent having reached the summit on all six previous occasions. Here is a summary of the six Irish who attempted Everest this Spring:
Jonathan Duke Ruane (42) was a client in the Arnold Coster expedition team this season. The team uses the camps and logistics of 'Seven Summits Treks'. Jonathan reached the summit of Everest at 5:30am on 15th May 2022, guided by Dawa C Sherpa. This was Dawa C Sherpa's 11th expedition on an 8000m peak and his third summit of Everest, having reached the summit of Manaslu four times and Cho Oyu once previously. Jonathan is a native of Sligo (this is a first Everest summit for Sligo!), a Fulbright scholar and former Sloan Fellow at MIT. He is currently a lecturer at MIT, in the Global Economics and Management group and is a member of MIT's Initiative on the Digital Economy. He is also an adjunct professor at Trinity College Dublin and was previously CEO and co-founder of VC backed SAAS start-up Eventovate. He was previously named in the Top 40 Irish Entrepreneurs Under 40 and is an experienced ultra-distance marathon runner including Marathon des Sables. He has also recently been appointed to the board of RTE (Irelands national broadcaster). This was Jonathan's first time on Everest and his second successful 8000m summit after climbing Manaslu (8,163m) in September 2021. His was the 72nd summit of Everest by an Irish climber and he became the 56th Irish climber to do so.
Robert Kelso Smith (51) was a professional guide with the Madison Mountaineering expedition team this season. Robert reached the summit of Everest on 20th May 2022 between 7am and 8am, along with 3 other guides, 9 clients and 17 Sherpa. This whopping group of 30 had the climb mostly to themselves, since most teams were done and down by May 20th. The Madison Mountaineering team has completed two rotations up to various camps on Everest during their adaptation phase. This is Rob's seventh (yep, seventh!!!) summit of Everest and 12th summit of an 8000m peak. He is one of the most accomplished mountain guide on the circuit, and one of the most experienced on the planet with 20 years of pedigree including a number of significant Himalayan and Antarctic expeditions. He has been lead guide on 6 Everest, 2 Lhotse, 1 Cho Oyo, 13 Vinson Massif and 3 Elbrus expeditions, and in 2021 became the first Irish born climber to successfully climb K2 twice! Roberts success this Spring was the 73rd summit of Everest by an Irish climber.
James McManus (39) was a client with Sherpa Tsering Lama from Nepal Pyramids expedition team this season. This was James' first Everest attempt and his first climb of an 8000m peak, while Tsering Lama was going for his second Everest summit having reached the top for the 1st time (first 8000m peak) in 2021 with Seven Summit Treks. James was attempting to create a new Irish record by becoming the first Irish climber to summit Everest without the use of supplementary oxygen, a feat which by the start of the 2022 season only 181 climbers worldwide had done 216 times in the past (less than 2% of all Everest summits). James runs the successful Dublin-based adventure travel company 'Earths Edge' which specialises in treks to various peaks including Kilimanjaro, Elbrus and Aconcagua. James has a degree in Sports Science and has been involved in the outdoors since an early age. He represented Ireland as a kayaker in 1999 and has climbed a number of peaks including Kilimanjaro, Elbrus, Aconcagua, Peak Lenin and Muztagh Ata. The duo set up their base in Pheriche (4,371m) rather than Everest Base Camp (5,364m), and utilised the camps and logistics of local operator Seven Summit Treks. James and Tsering climbed Island Peak and Lobuche East during adaptation in April, and completed three rotation on Everest including sleeps at Camps 2 and Camp 3 and an ascent to 7,850m on their third rotation. Unfortunately weather seemed to bring their expedition to a premature end on 23rd May at Camp 2, when James reported… "Unfortunately, because of consistently high winds between now and the end of the season, we are not going to get a chance to attempt the summit, which is really disappointing". (Postscript: Shortly after returning to EBC on 23rd May, James was evacuated to hospital in Kathmandu on 24th May with he described as "a mild case of pulmonary oedema [HAPE] and potentially cerebral oedema [HACE]". He reported on social media that he is doing much better and will be heading back to Ireland shortly. In this context it is quite lucky for James that the weather prevented him from pushing on into the extreme hypoxic and hyperbaric conditions above 8000m on that summit push without supplementary oxygen, where mild HAPE/HACE turns rapidly into a deadly outcome).
Diarmuid Morrissey (56) was a client in the Furtenbach Adventures expedition team (Classic Team) this season and had to end his expedition early at the beginning of May. This was Diarmuid's second attempt on Everest having been on the mountain last year with the US-based Mountain Trip team, during what became a shambolic Covid season on Everest. Mountain Trip lost half of their Sherpa group to Covid-19 last season and became unable to support the clients fully with a reduced headcount and the added complexity of Cyclone Yaas bearing down on them as the summit window narrowed to a close. That expedition was eventually cancelled on 22nd May 2021, just ahead of their planned summit push. This time around Diarmuid reported on his Instagram account on 5th May 2022 that his dream of standing on top was sadly not possible this year. Diarmuid is a Dublin-born Athlone native, currently living in Portugal. He has climbed Kilimanjaro, Elbrus, Aconcagua (for a second time just a few months ago), Kosciuszko, Vinson Massif, Island Peak and Mera Peak and is attempting to complete the 7 Summits.
Michael 'Miko' Keane (69) was a client in the Ascent Himalayas expedition team this season and decided to end his expedition early. This was Miko's second attempt on Everest after an unsuccessful attempt back in 2019. He had previously climbed Manaslu (8,163m) in September 2018, becoming only the 4th Irish climber to do so and had successfully climbed Denali in 2015 as well as Elbrus, Kilimanjaro and Mont Blanc previously. A keen outdoor adventure runner and mountaineering enthusiast in his native Galway, he is a regular on the adventure race circuit, including Gaelforce and the Maamturks Challenges, among others. Miko is a sheep farmer from Corr na Móna in the beautiful Gaeltacht (Irish-speaking) region in County Galway.
Michéal Brogan was a client in the Summit Climb team (owned by Dan Mazur) and made the decision to end his expedition early. This was Michéal's first time on Everest and his first attempt of an 8000m peak. He was one of 15 clients within the Summit Climb team this season, with geographic split of Ireland (1), USA (7), UK (3), Germany (2), Japan (1) and Canada (1). Micheal is originally from Tyrone but has lived in Mullingar for some years now.
---
Finally, the World Sherpas expedition company of which Dubliner (and 2012 Everest summiteer) Cian O'Brolchain is Director, were back on Everest this season. They had one client, Tasmanian Larry Longman, who was guided by IFMGA guide Furtemba Sherpa (from Rolwaling) who has climbed twelve 8000m peaks including five summits of Everest. Furtemba and Larry successfully reached the summit on 16th May. Congratulations to World Sherpas on a successful season.
Everest
– The Latest Numbers
Everest
– New Irish Books
Two Irish Everest alumni have published new books this year.
Vivian James Rigney completed the 31st Irish summit of Everest in May 2010. The US-based Dubliner was 39 when he reached the summit and his new and excellent book 'Naked at the knife-edge' takes you on a detailed journey up the mountain, with well crafted and thoughtful lessons in vulnerability, strength and resilience evoked along the way. It is a terrific read and is published by Forefront Books in the USA.
Kieran Lally is a Mayo native who completed the 48th Irish summit of Everest in May 2013, aged 54 (becoming the first from Mayo to do so). His beautiful book 'Beyond the Summit' takes you on a journey from the slopes of Everest to his childhood days and unpacks the complex reasons why he chose to take on the highest mountain in the world, as well as reflections on what it meant to achieve his goal and the journey of self-discovery he undertook before, during and after the climb. It is published by Ballpoint Press in Wicklow.
Two new and different books, and deserving additions to the 'Irish on Everest' cannon.
The author: Paul Devaney is a native of Longford, is co-founder of Irish Seven Summits, and Director of Seven Summits Solutions which provides Aerospace & Digital Design services. Paul is an amateur mountaineer and has completed 6 of the 7 Summits and attempted Everest in 2014 and 2015. In both seasons his expedition was halted due to major incidents (Avalanche in 2014, Earthquake in 2015). Paul has climbed and trained in the Alps and completed climbs from Alaska to Antarctica and from Jordan to Ecuador. Paul lives in London with his wife Rima and has been documenting and researching the Irish on Everest for the past nine seasons.