Everest 2019
– Quick Irish Update
It's 3rd May and the season is approximately 60% complete, with teams either preparing for the summit window in mid May or shaping up for their second rotation up the high mountain to further adapt ahead of the inevitable wait for the jet stream to move away from the top of the mountain to enable climbers to reach the summit.  Here is the latest on the Irish climbers this season.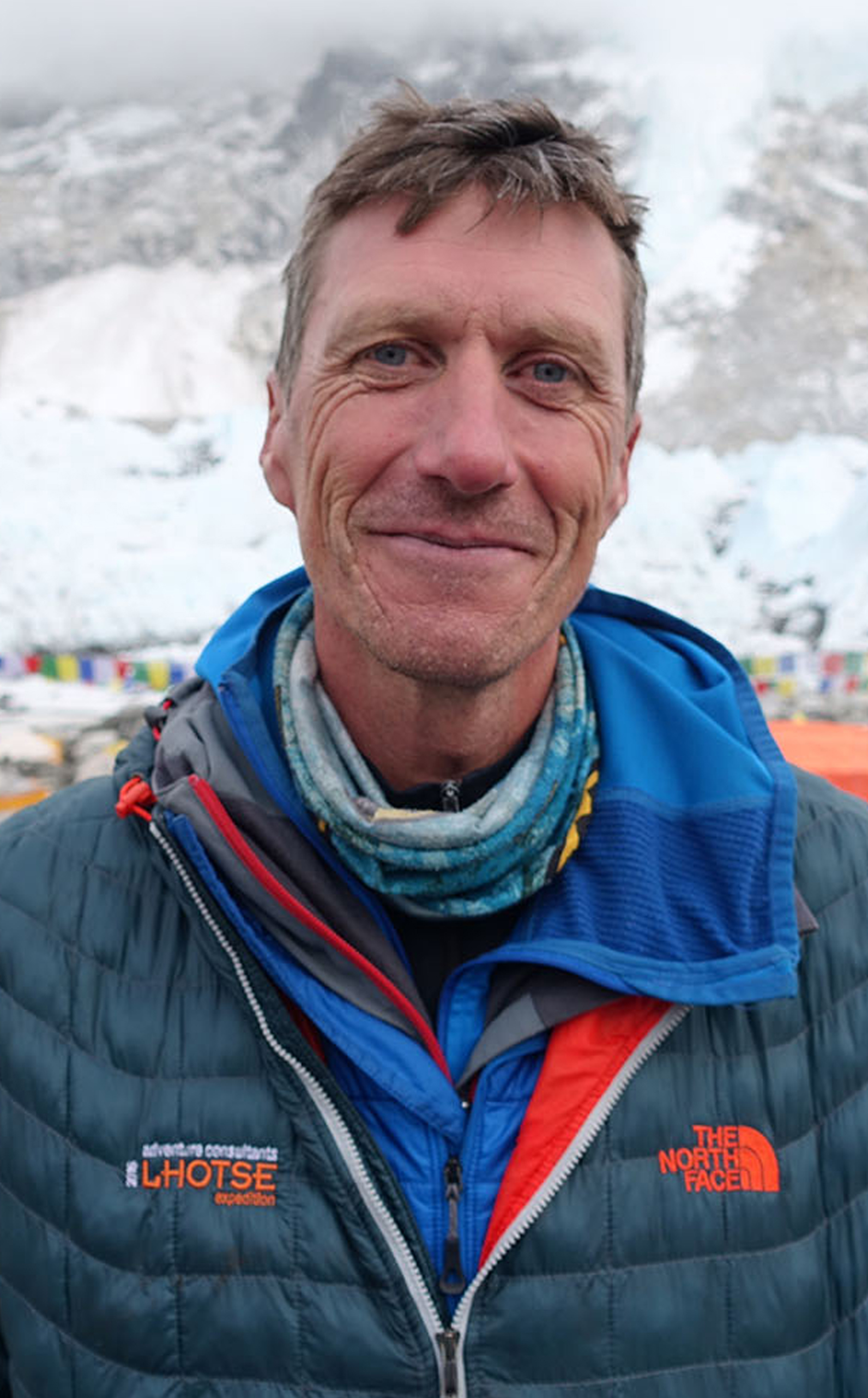 Séamus Lawless (Wicklow), Jenny Copeland (Meath) and guide Noel Hanna (Down) are climbing on the South side of the mountain. Having arrived at Base Camp on 20th April Noel, Jenny & Shay have now completed their acclimatisation rotation up the high mountain including Camp 1 (6035m), Camp 2 (6474m) where they slept and adapted for a few days, and onward to touch the Lhotse Face below Camp 3 (7000m). The team has covered a heck of a lot of ground and altitude on a single rotation and seems to be in great shape. Shay reported via his tracker that the icefall was "getting a bit melty" on the way back down as the weather shifts and changes. The trio have already returned to Base Camp having completed their sole planned rotation, and are recovering and settling in for the patient wait for a suitable summit window which typically appears from mid May.
Robert Smith (Tyrone) is guiding for Adventure Consultants on the South side. Robert has completed their first rotation including sleeps at Camp 1 (6035m) and Camp 2 (6474m) as well as climbing the base of the Lhotse Face to 6800m. He is now back at Base Camp preparing for the second rotation which will take the team to Camp 2 and Camp 3 (7158m) before returning to Base Camp to recover and prepare for the summit push in a couple of weeks from now, typically towards the middle of May and thereafter. Worth noting that Robert is aiming to complete an Everest-Lhotse double this season. Currently the effects of Cyclone Fani are starting to impact progress on the mountain and the team are waiting at Base Camp until the weather clears before progressing back up the mountain for their second rotation.
Kev Hynes (Galway) and 360 Expeditions team on the North side completed their first rotation from Base Camp (5182m) to Intermediate Base Camp at 5700m, to Advanced Base Camp (6400m) where they spent 2 days/3 nights and onward to the North Col before descending back to ABC for another night and returning to Base Camp. The 360 team are currently at Base Camp preparing to start their second rotation tomorrow 4th May (weather permitting based on status of Cyclone Fani). Their second rotation will include 2 nights on the North Col at Camp 1 (7000m) before pushing on to touch Camp 2 at 7500m and gain the necessary adaptation to return to Base Camp and prepare for the summit window.
Miko Keane (Galway) decided to end his expedition on 29th April and is safely back in Corr na Mona. Making a decision to turn back is never an easy one, especially on large expeditions such as Everest. Only the climber themselves can best assess their circumstances, what is ahead and whether this is the right time or not. Doubtless this was a very difficult decision to make, but it takes a monumental effort and no small amount of bravery to attempt the worlds highest peak, and even more steel to make difficult calls when needed. Well done Miko on stepping into the big arena with Manuslu summit experience to guide you, and kudos on making the hard decisions when needed. The mountain will always be there.
Interview
– Séamus Lawless & Jenny Copeland
Images from Ireland on Everest facebook page.
Tell us about yourselves?
Shay: I'm Shay, I'm from Bray, County Wicklow in Ireland. I work as a Professor in Computer Science in Trinity College Dublin. I'm married to Pam and have a four year old (she'd say "nearly five!") daughter Emma. I'm the youngest of seven children, five sisters and one brother. My parents Jimmy and Betty are still in my childhood home in Bray.
Jenny: I'm Jenny, from Drumree, Co. Meath. I am married to Bob and we have four energetic children, Charlotte (11), Josh (10), Harriott (8) and Elliott (7). I am a chartered Physiotherapist and enjoy promoting active wellness and preventative health practices.
---
How did you get into high-altitude mountaineering and what climbs helped prepare you for this epic adventure?
Shay: I've always had an interest in hiking and love being in the outdoors. I have also always been drawn to the mountains and to the wilderness. Climbing Mount Everest has been something I've dreamt of since I was a child, but never really thought would happen. I've got into high-altitude mountaineering over the last 4 years. My favourite climb, and most challenging climb are the same – Denali in Alaska. It is a stunning wilderness and a wonderful expedition, albeit a very tough slog over the course of three weeks.
Jenny: My love for seeking out adventure goes back to my early teens, camping in the wilds at Cara Lake on the foothills of the MacGuillcuddy Reeks, whilst we scaled (what seemed to me at the time as the great heights of) Carrauntoohill. Having studied sport science in Bangor University North Wales, the Snowdonia National Park became our go to playground, rock climbing and venturing into the hills. As a trainee instructor at Lough Dan Adventure centre I gained my Rock Climbing instructor awards and Mountain Leader Training, enabling me to enjoy my passions independently and introducing many to the joys of the outdoors. My first experience of high altitude mountaineering came in September 2000, when 6 instructors from Lough Dan set their sights on Mount Blanc, of which three of us summited. It whetted my appetite for more, but it would be some 16 years before I joined up with our team, Ireland on Everest with Shay, Suzanne and Emma, with our ultimate goal of summiting Mount Everest. In 2017, we set out to summit Mera and Island Peak, descending the Everest Base Camp route. Denali is my favourite so far and the most challenging in preparation, it's a pristine mountain with leave no trace ethos that is implemented. To be totally self sufficient in load carrying and tent set up gives a flavour of a true expedition. A wonderful test of patience sitting out 8 days in storm conditions at 11,000ft camp and the adrenaline of summiting and the incredible walk out from high camp to base camp in one sweep was a true test of inner grit and determination.
---
Why Everest?
Shay: My father gave me a pullout from National Geographic when I was young, of the route up the south face of Everest. I had it on the wall of my bedroom for years. I think the stories I read about Everest as a child and the documentaries I watched made it iconic in my mind, and is always something I aspired to see in the flesh.
Jenny: Since I summited Mont Blanc in 2000, I realised, why not? My self belief soared, and the realisation that I could achieve what I set out to do, with hard work and determination, sunk in. Whilst I applied this to my career and family in the intervening years, it was some 16 years later that I dared to dream once more of the hills and what might be possible. The whole team aspect of Ireland on Everest drew me in, having a shared experience, the synergy effect of team mates and what you can achieve being part of a team, training and striving together. Reading every mountaineering tale of adventure, one aspires and lives through these real life characters, ever hopeful that one day it could, can be me. Everest and the Himalayan region is an incredibly special place. It is the tallest in the world and stands shoulders over the rest, there is an allure and this mountain is calling.
---
You are climbing via South (Nepal) side – Why did you decide on South instead of North?
Shay and Jenny: I think the south has always been more attractive to us, and is the side I thought about when I dreamed of climbing Everest. There are positives and negatives to both sides, and when we weighed them up, south still came out on top for us.
---
Tell us about your training?
Shay: Most of our training takes place at home. General cardio and weight work in the gym, jogging and lots of hiking, mostly in Wicklow but also in the Mournes, Kerry and around Ireland. As we near an expedition I start to carry heavier packs on those hikes, using weights to work up to about 22kg. In addition we do technical ropework climbing in quarries and on indoor walls. We also go to Scotland to complete Winter Skills training at least once a year. Working on technical winter skills in the more extreme winter conditions that Scotland reliably gets. Finally, we have completed a number of high altitude climbs as we worked towards Everest, including European mountains, Himalayan Mountains (Mera and Island Peak) and Denali in Alaska.
Jenny: My training is very similar to that of Shays, and I like incorporate Pilates and Yoga also.
---
You will be climbing with Seven Summits Treks Pvt expedition team with the legendary Noel Hanna as your personal guide. How did you go about choosing Seven Summits Treks and how did you decide on 1:1 Sherpa ratio along with Noel as your guide?
Shay & Jenny: We decided upon Noel based upon our conversations with him over the last two years. We've had support from lots of Irish climbers and everyone had only positive things to say about Noel. He has given us lots of advice for our previous climbs that we found beneficial. He also has established relationships with a number of Sherpa companies in Nepal. We trust his guidance completely. Noel recommended Seven Summits Treks and having researched the company and the Sherpas we were happy to go with that recommendation.
---
What motivated you to team up with other Irish climbers in training for and attempting Everest and how has that benefited your training and preparation?
Shay and Jenny: We wanted to work as a team from the outset. All of us in 'Ireland on Everest' (Jenny, Emma, Suzanne and Shay) were connected together by Ian Taylor, as we had individually contacted him about climbing Everest. When we began to discuss working towards Everest it was clear that we were of the same mind with regard the benefits of being part of a team. The support network that it gives you is priceless. Being on that journey together has added hugely to the experience.
---
You are climbing under the banner 'Ireland on Everest' which consists of four people, with you two attempting Everest in 2019. Is there a plan for the other 2 to attempt Everest in 2020?
Shay: Emma Hickey is tackling Denali this year, and hopes to climb Everest next year. Suzanne Stroker also still has Everest firmly in her sights.
---
What are your biggest fears or concerns in advance of the expedition and how are you trying to manage those fears while also focusing on the task at hand?
Shay and Jenny: The biggest fears tend to be the uncontrollable ones. How the body will cope with altitude, what will traffic on the mountain be like, will the mountain and the weather allow us to summit etc. We worked with a sports psychologist (Niall O'Donoghue) who helped us with techniques to focus on the elements we can impact and help to deal with those we cannot.
---
The first 20 days of the Everest expedition is all about slow and steady adaptation. Will your expedition team be adapting on Lobuche or Island Peak before you reach Everest Base Camp or will you do most of your acclimatising on Everest itself?
Shay: We will do most of our acclimatising on Everest itself, but we are planning just one rotation up the mountain for acclimatisation if all goes well, essentially using camp 1 as an advanced base camp.
---
The icefall between Base Camp and Camp 1 is infamous because of the dramatic ladder crossings which capture the public imagination. How many times will you be crossing the icefall and how do you prepare for the ladder crossings and overall hazards in that ever-changing environment?
Shay and Jenny: Based upon our current plan (which can always change!) we will be passing through the icefall four times, twice up and twice down. We've done some training in Scotland and at home on crossing ladders with crampons and mountaineering boots. We also had some ladder crossings when we were on Island peak, albeit a lot smaller than what we will face on Everest.
---
Everest is a monumental physical and mental challenge. In the upper mountain it is often your mind that decides enough is enough, hence overcoming that mental fatigue over a period of 60 days is, many would say, the essence of the Everest challenge. What do you do to prepare mentally for the unique challenges you will face on the upper mountain, particularly above Camp 3?
Shay and Jenny: We worked with Niall O'Donoghue on mental techniques around focus and visualisation – preparing as much as possible for what you will face at different stages of the climb. We also try to understand the expected rate of exertion for the stages of the climb, allowing us to properly pace yourself and be ready for what is to come.
---
Last year there were 802 summits of Everest making it a record-breaking year. It is projected that 2019 will be the busiest year yet. Is it difficult to prepare physically or mentally for the inevitable queues on the icefall, Lhotse Face or Hillary step-ish?
Shay and Jenny: This is one of the uncontrollable factors, and while it will inevitably cause us issues at some point, we are trying not to focus too much on it. Being prepared for delays is important however, making sure you have the proper layers, and keeping your feet and hands warm.
---
Life above 8000m and particularly on the long summit day is often described by those who have experienced it as the hardest experience of their life – the supplementary oxygen, reduced pace, physical and mental fatigue, heightened awareness, adrenaline and excitement. How do you prepare for entering the so-called 'Death Zone' and dealing with the sights and sounds that exist there?
Shay and Jenny: This is also part of the visualisation work that we have done. Picturing yourself in those places, trying to imagine how it sounds and feels. We have also used the Mammut 360 imagery and Virtual Reality (VR) headset to help to visualise how it will feel high on the high mountain.
---
Tell us about your medical kit for Everest – What's in there and why?
Shay and Jenny: Our medical kit is extensive, with medicines for most eventualities. We have drugs to help should we get colds or flu, antibiotics to tackle a range of potential issues, medicines to help with stomach trouble, antihistamines, antibacterial eye drops, antibacterial creams for your feet, lots of painkillers should the need arise etc. The most specialist medication is for altitude sickness – Diamox is a drug which can be taken prophylactically or to address mild altitude sickness, we won't be taking it in advance but will have it on hand. Dexamethasone is a stronger medicine to be used in case of severe altitude sickness to help you descend the mountain safely.
---
Altitude sickness (HAPE or HACE) is the most common physiological hazard associated with extreme high-altitude. Is there any medical preparation that can be done in advance (bloods or otherwise) to ensure you are as predisposed to altitude adaptation as possible or to address any deficiencies in advance?
Shay and Jenny: We haven't done any blood tests in advance, but we have monitored our oxygen saturation rates on our previous climbs, and will do so during our acclimatisation and while on Everest. This will allow us to be sure that our bodies are adapting appropriately to the altitude.
---
Will you be using supplementary oxygen? If yes, what oxygen strategy will you be employing to help give you the best chance at success?
Shay and Jenny: We will be using supplementary oxygen from 7000+ meters. We have sought to ensure that there are spare regulators available and that all the equipment is properly tested in advance of our progress to camp 3. We are also planning to check each other during initial use and throughout the climb on the higher mountain.
---
Prior 8000m experience has become a sort of unwritten prerequisite for climbing Everest. However the stats show 65% of Irish summits were by climbers who had not climbed an 8000m peak before and 60% had never been above 7000m before. What are your thoughts on the 8000m experience debate and has it influenced your training at all?
Shay and Jenny: We originally planned to include an 8000m peak, such as Cho Oyu, in our preparatory climbs ahead of Everest. However, when we weighed up the experience we would gain above and beyond Denali and our other climbs, versus the extra financial and time commitments we decided not to include it in the end. I think with all the time and money in the world at hand it would be ideal to have 8000m experience, but I don't believe it is critical.
---
Technology has become an increasingly large part of Everest expedition life including beacons, trackers and satellite phones. What tech will you be taking with you and will people at home be able to track your progress online?
Shay and Jenny: We will both have Garmin InReach tracking devices, which use satellite communication to allow you to track your progress using GPS and send text messages. We'll be tracking our climb as we go, and you can follow along on the links below.
---
Everest is an inspiring and historic peak. But it is also one of the busiest & more polluted mountains too. While the footfall in the Khumbu Valley is bringing immense opportunity & investment, increasing accessibility is having a big impact on the ecosystem. Do you think that Irish children growing up in an era of extreme climate challenges should set their sights on climbing Everest or protecting it?
Shay and Jenny: I don't think you can prevent people from seeking to climb the iconic mountains of our planet. Having said that, the volume of traffic is getting close to the maximum that the mountain can support. It is likely that some limits will need to be placed on the numbers of people allowed on the mountain each year. However, if this does happen, I think it is important that climbing Everest doesn't just become the preserve of the rich, with the highest bidders getting access. It would be interesting to impose restrictions on experience, ensuring that everyone on the mountain had a certain level of mountaineering competency.
---
Everest is a very expensive undertaking. Is your expedition self-funded or are you fundraising or crowdfunding? If so, how can people get involved?
Shay and Jenny: We've have funded our expedition through a mixture of self-funding, corporate sponsorship and crowdfunding. We have been lucky enough to attract a number of corporate sponsors: Clune Construction, FL Partners, Adra by Trintech, Copeland Coppersmiths, the ADAPT Centre and Everest Snacks. We have also been supported by the Great Outdoors who have helped us with our equipment. Our crowdfunding page is at http://sponsor.me/irelandoneverest.
---
You are raising funds for the 'Barretstown' childrens project which offers free, specially designed camps and programmes for children and their families living with a serious illness. Why did you choose Barretstown and how can people donate directly to your Barretstown appeal?
Shay and Jenny: Barretstown is a charity which resonated with all the team members. They are a wonderful charity who provide much needed respite and recreational care to seriously and terminally ill children. They have a campus in Kildare where the children and their families can go and spend some time away from the confines of hospital, while still receiving on-site medical care. Personally, friends of mine lost their young daughter to cancer, so I'm keenly aware of just how difficult and heartbreaking this can be, any charity which offers these children a chance to have fun and make memories is something worth supporting. People can donate directly on https://give.everydayhero.com/ie/ireland-on-everest-barretstown.
---
Reaching the summit of Everest has an immense impact on the lives of those lucky enough to achieve it. Do you think about that impact and life on the other side of the big peak?
Shay and Jenny: Not really to be honest, planning an Everest Expedition takes so much time and effort that I think I've just been wrapped up in the organisation. I hope that I can soak up the experience while I'm here, and enjoy the whole trip without fixating too much on the summit. While obviously driving for that goal to the absolute best of our abilities.
---
What is the first thing you plan to do once you get back home to Bray and Drumree after the expedition?
Shay: I imagine it will be to hug my family, eat my fill and sleep in a comfy bed!!
Jenny: It drives home once again that we should not take things for granted, like running water, a hot shower, electricity. Being thankful at the same time for what we have!
The author: Paul Devaney from Longford is co-founder of Irish Seven Summits and runs Seven Summits Solutions – providing Aerospace & Digital Services. Paul is an amateur mountaineer and has completed 6 of the 7 Summits and attempted Everest in 2014 and 2015. In both seasons his expedition was halted due to major incidents on the mountain (Avalanche in 2014, Earthquake in 2015). Paul has climbed and trained in the Alps and completed expeditions from Alaska to Antarctica. He currently lives in London, England.