|   Training Strategy   

| 
For Antarctica 2013 and Everest 2014, preparation began in September 2012 and full-time training from May 2013 which continued until March 2014. Full time training for Everest 2015 began from October 2014 and ran until March 2015. All training was based at the University of Limerick campus in Ireland.
Training for Everest 2014 focussed on Strength, Endurance, Yoga, Hiking, Mountain Skills and Altitude Adaptation as well as assessments such as VO2max testing, DXA Body Scanning and Blood Testing at specific intervals. A unique aspect of Paul's training was the opportunity to live full-time in the National Altitude Training Facility on the University of Limerick campus, living for 14-16 hours per day in simulated altitude conditions for a period of 6 months. For Everest 2015 training was simplified to Endurance, Strength & hiking and altitude training was done via an Altitude Tent which Paul rented and slept in for 8 hours each night for a period of 3 months. 
|   

Trainers – 2015 / 2014

   

| 
A team of specialists supported Paul during his 26-week training program for Everest 2014 at University of Limerick. For Everest 2015 Paul worked with Aidan O'Keeffe on daily endurance and functional training from November 2014 to March 2015. For Everest 2014 this training team consisted of Aidan O'Keeffe (Endurance trainer), Rachel Turner (Altitude trainer), Jackie Doherty (Strength trainer) and Paulette Egan (Yoga instructor) with daily intensive training ongoing from June 2013 to March 2014.
Rachel Turner

Altitude Trainer (Everest 2014)

Aidan O'Keeffe

Endurance Trainer (Everest 2015 + 2014)

Jackie Doherty

Strength Trainer (Everest 2014)

Paulette Egan

Yoga Instructor (Everest 2014)
|   Preparation – 2015 / 2014   

| 
2015 Preparation: The plan for Everest 2015 changed to reflect changing circumstances, personnel and priorities The National Altitude Training Centre was out of commission hence the weekly training plan was as follows:
5-6 Endurance sessions (with Aidan O'Keeffe)

2-3 Strength sessions (on my own in gym)

Daily planning & preparation sessions (on my own)

Hiking day – 6/8 hours (Solo or with UL Outdoor Pursuits Club)
The preparation phase included detailed planning & promotion work (Design of graphics, website, visuals etc.), logistics management, gear selection and also included the design of a revised new itinerary for the 2015 climb to avoid multiple trips through the icefall following the 2014 avalanche. 
2014 Preparation: Weekly training involved 15+ hours of physical activity, split between strength, endurance, altitude work and hiking/biking as follows…
2x Strength sessions (with Jackie Doherty)

2x Endurance sessions (with Aidan O'Keeffe)

2x Altitude Gym cardio session (with Rachel Turner)

2x Ladder practice sessions (by myself)

1x Yoga session (with Paulette Egan)

6x Hours of Hiking/Bike (Hiking with UL Outdoor Pursuits Club)

16x Hours per day living/sleeping at simulated altitude at the NATC Facility (Managed by Rachel Turner)
The preparation phase also included non physical activities such as planning, logistics, gear selection, high altitude physiology & medicine knowledge and first hand accounts about Everest and the climb from speaking to folks who climbed it in the past. These conversations along with our own research gave us a better understanding of the nature of the challenge.
|   

Milestones (2012-2015)   

| 
The journey to Everest 2014 started in September 2012 and included a number of significant milestones along the way to challenge and test readiness in advance of the big climb. The timeline also included completion of the 6th Summit (Vinson Massif in Antarctica) in January 2014. The preparation below shows a mixture of hill trekking, ice climbing, alpine training, running, cycling, personal training, altitude training and altitude living in the months leading up to departure to Everest. It is also punctuated by assessments (Bloods, VO2max, DXA Body Scans) to utilise Sports Science to help better inform training zones and needs. After the avalanche disaster and shutdown of Everest in April 2014, Paul started back into training for Everest 2015 in September 2014 with a more focussed training model centered around endurance work, and the utilisation of a Hypoxico altitude tent for sleeping purposes from January 2015 onwards.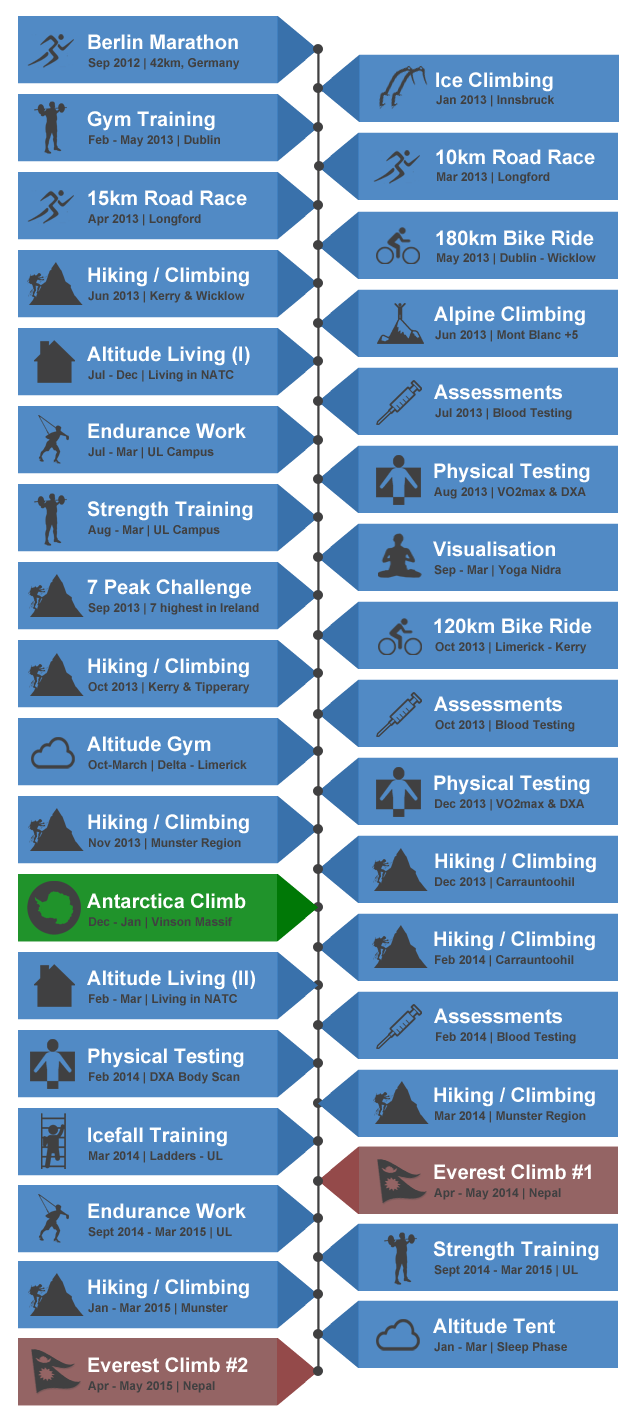 |   

Training Videos   

| 
|   

Training Images – 2015

 

  

| 
|   

Training Images – 2013/2014

   

|