|   About the Seven Summits   |
The Seven Summits challenge was first completed by American Dick Bass in 1985 and involves climbing the highest peaks on all 7 continents including… Kilimanjaro (Africa), Elbrus (Europe), Aconcagua (S. America), Kosciuszko (Australia), Denali (N. America), Vinson (Antarctica) & Everest (Asia).
By 2012 only 234 people worldwide had completed each of the 'Bass' and 'Morrow' Seven Summits lists respectively. The difference between the two lists rests on a difference of opinion on what constitutes the continent of Australia. The world record for the fastest Seven Summits challenge was briefly held by Irishman Ian McKeever in 2009 at 156 days, while the first person in the world to have completed the Seven Summits including descent to sea level was Noel Hanna.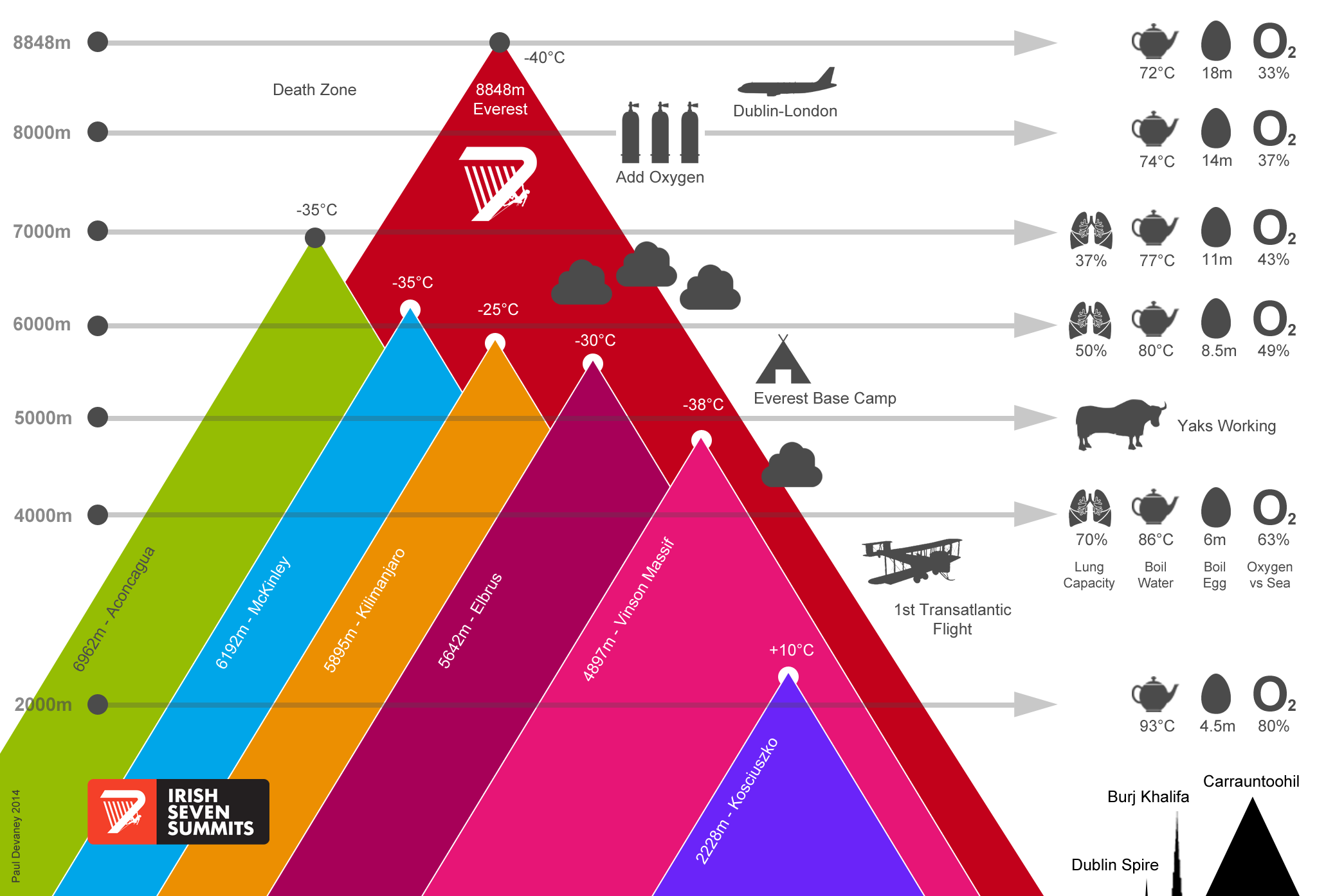 The list of climbers from Republic of Ireland and Northern Ireland who have completed the 'Bass' Seven Summits list is as follows…
Pat Falvey (39 & 47) from Co. Cork in 1997 & 2005

Clare O'Leary (34) from Co. Cork in 2005

Ian McKeever (37) from Co. Wicklow in 2007

Vivian Rigney (39) from Co. Dublin in 2010

Noel Hanna (42) from Co. Down in 2010

Neill Elliott (42) from Co. Fermanagh in 2015

Mary Scannell (   ) from Co. Kerry in 2016
Note: Noel Hanna, Bill Hanlon, Ian McKeever and Vivian Rigney and Mary Scannell have all completed the 'Morrow' Seven Summits list which replaces Kosciuszko with Carstensz Pyramid in Papua New Guinea.